Dynamics of Water and Biofilm Bacterial Community Composition in a Mediterranean Recirculation Aquaculture System
Aquac. J. 2022, 2(2), 164-179; https://doi.org/10.3390/aquacj2020008 (registering DOI) - 18 May 2022
Abstract
Recirculation technology has been emerging in the marine aquaculture industry. The microbiome developed in recirculation aquaculture systems (RASs) is an important factor for the optimal operation of these systems and fish welfare. In this study, the microbial community dynamics in the water column
[...] Read more.
Recirculation technology has been emerging in the marine aquaculture industry. The microbiome developed in recirculation aquaculture systems (RASs) is an important factor for the optimal operation of these systems and fish welfare. In this study, the microbial community dynamics in the water column and the biofilms of a marine RAS with Mediterranean species of gilthead sea bream and sea bass were investigated, while physicochemical conditions were also monitored. Microbiological, culture, and non-culture analyses based on PCR-Denaturing Gradient Gel Electrophoresis (PCR-DGGE) fingerprints were performed on the water column and biofilm developed on stainless-steel surfaces. According to the obtained results, feed administration seemed to cause changes in pH and TAN, as well as drive changes in the bacterial abundance in the water column. Tested surfaces were colonized within 24 h and sessile cells were stabilized in terms of density within 6 days. DGGE fingerprints indicated the stability of the microbial community in water and a dynamic succession in the community of the biofilms. The fish pathogen
Tenacibaculum discolor
was found to colonize the biofilm and the water column. The main findings confirmed that RAS technology can be used as a control strategy for the stability of the water microbial community, that there is a dynamic succession of the dominant species in the biofilm communities, and that pathogenic bacteria can be dominant in the latter.
Full article
►

▼

Show Figures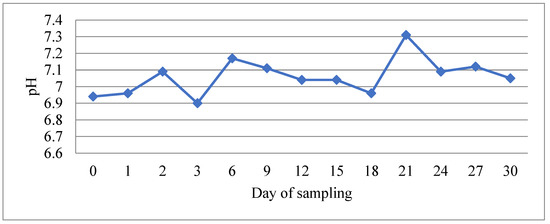 Figure 1