Open Access
Article
A Single-Use Microthruster Concept for Small Satellite Attitude Control in Formation-Flying Applications
Received: 5 June 2018 / Revised: 29 October 2018 / Accepted: 5 November 2018 / Published: 14 November 2018
PDF Full-text (2561 KB) | HTML Full-text | XML Full-text
Abstract
In recent years, the maturation of small satellite technology has led to their adoption for a variety of space missions. The next generation of small satellite missions, however, will likely have the satellites operating in formations or "constellations" to perform missions that are
[...] Read more.
In recent years, the maturation of small satellite technology has led to their adoption for a variety of space missions. The next generation of small satellite missions, however, will likely have the satellites operating in formations or "constellations" to perform missions that are not currently possible. A key enabling technology for constellation-based missions is a miniaturized propulsion system that is capable of delivering the extremely low impulse levels required for maintaining precise relative position and orientation. Existing propulsion solutions for this regime suffer from compromises on power, safety, and cost that have limited their adoption. In this work, we describe a new, low-power micropropulsion concept based on the thermal decomposition of an inert chemical blowing agent (CBA) as the propellant. A meso-scale prototype device is designed, fabricated, and tested. The experimental results indicate that this concept, when appropriately scaled, is capable of providing thrust levels (∼1
N) and impulse-bits (∼0.1
N·s) that are commensurate with the intended application.
Full article
►

▼

Figures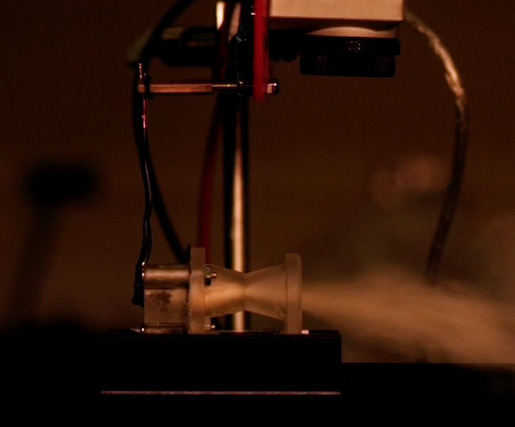 Graphical abstract