The Poopó Polymetallic Epithermal Deposit, Bolivia: Mineralogy, Genetic Constraints, and Distribution of Critical Elements
1
Departament de Mineralogia, Petrologia i Prospecció Geològica, Facultat de Ciències de la Terra, Universitat de Barcelona, Carrer de Martí i Franquès s/n, 08028 Barcelona, Catalonia, Spain
2
Geological Engineering Program, Faculty of Sciences and Engineering, Pontifical Catholic University of Peru (PUCP), Av. Universitaria 180, San Miguel, Lima 15088, Peru
3
Instituto de Geología, Universidad Nacional Autónoma de México, Ciudad Universitaria, Coyoacán 04510 CDMX, Mexico
4
Australian Research Council Centre of Excellence for Core to Crust Fluid Systems (CCFS) and GEMOC, Department of Earth and Planetary Sciences, Macquarie University, North Ryde, NSW 2109, Australia
5
Centres Científics i Tecnològics, Universitat de Barcelona, Carrer de Martí i Franquès s/n, 08028 Barcelona, Catalonia, Spain
6
Departament de Mineralogia, Museu de Ciències Naturals de Barcelona, Passeig Picasso s/n, 08003 Barcelona, Catalonia, Spain
7
Escola Tècnica Superior d'Enginyeria de Mines de Manresa, Universitat Politècnica de Catalunya, Avinguda de les Bases de Manresa 61–73, 08242 Manresa, Catalonia, Spain
8
Institut de Nanociència i Nanotecnologia (IN2UB), Facultat de Química, Universitat de Barcelona, Avinguda Diagonal 645, 08028 Barcelona, Catalonia, Spain
9
Colegio de Geólogos de Bolivia, Av. Hernando Siles entre calles 1 y 2, Zona de Obrajes, Edificio Señor de la Exaltación Nro. 4683, La Paz 8941, Bolivia
*
Author to whom correspondence should be addressed.
Received: 19 June 2019 / Revised: 25 July 2019 / Accepted: 29 July 2019 / Published: 31 July 2019
Abstract
The tin-rich polymetallic epithermal deposit of Poopó, of plausible Late Miocene age, is part of the Bolivian Tin Belt. As an epithermal low sulfidation mineralisation, it represents a typological end-member within the "family" of Bolivian tin deposits. The emplacement of the mineralisation was controlled by the regional fault zone that constitutes the geological border between the Bolivian Altiplano and the Eastern Andes Cordillera. In addition to Sn and Ag, its economic interest resides in its potential in critical elements as In, Ga and Ge. This paper provides the first systematic characterisation of the complex mineralogy and mineral chemistry of the Poopó deposit with the twofold aim of identifying the mineral carriers of critical elements and endeavouring to ascertain plausible metallogenic processes for the formation of this deposit, by means of a multi-methodological approach. The poor development of hydrothermal alteration assemblage, the abundance of sulphosalts and the replacement of löllingite and pyrrhotite by arsenopyrite and pyrite, respectively, indicate that this deposit is ascribed to the low-sulphidation subtype of epithermal deposits, with excursions into higher states of sulphidation. Additionally, the occurrence of pyrophyllite and topaz has been interpreted as the result of discrete pulses of high-sulphidation magmatic fluids. The δ
34
S
VCDT
range in sulphides (−5.9 to −2.8‰) is compatible either with: (i) hybrid sulphur sources (i.e., magmatic and sedimentary or metasedimentary); or (ii) a sole magmatic source involving magmas that derived from partial melting of sedimentary rocks or underwent crustal assimilation. In their overall contents in critical elements (In, Ga and Ge), the key minerals in the Poopó deposit, based on their abundance in the deposit and compositions, are rhodostannite, franckeite, cassiterite, stannite and, less importantly, teallite, sphalerite and jamesonite.
View Full-Text
►

▼

Figures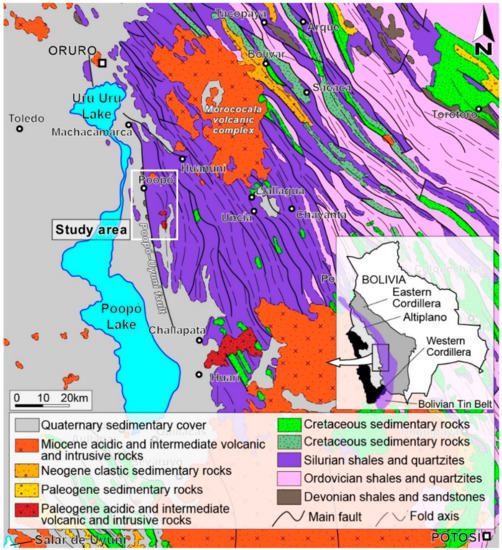 Figure 1
This is an open access article distributed under the
Creative Commons Attribution License
which permits unrestricted use, distribution, and reproduction in any medium, provided the original work is properly cited (CC BY 4.0).

Share & Cite This Article
MDPI and ACS Style
Torres, B.; Melgarejo, J.-C.; Torró, L.; Camprubí, A.; Castillo-Oliver, M.; Artiaga, D.; Campeny, M.; Tauler, E.; Jiménez-Franco, A.; Alfonso, P.; Arce-Burgoa, O.R. The Poopó Polymetallic Epithermal Deposit, Bolivia: Mineralogy, Genetic Constraints, and Distribution of Critical Elements. Minerals 2019, 9, 472.
Note that from the first issue of 2016, MDPI journals use article numbers instead of page numbers. See further details here.
Related Articles
Comments
[Return to top]