The Utility of the Shock Index for Predicting Survival, Function and Health Status Outcomes in Major Trauma Patients: A Registry-Based Cohort Study
Abstract
The shock index (SI; heart rate/systolic blood pressure) has been found to predict mortality in trauma patients. The aims of this study were to establish whether the SI improved the prediction of an existing model for both mortality and longer-term outcomes in major
[...] Read more.
The shock index (SI; heart rate/systolic blood pressure) has been found to predict mortality in trauma patients. The aims of this study were to establish whether the SI improved the prediction of an existing model for both mortality and longer-term outcomes in major trauma patients. In total, 29,574 adult (>15 years) major trauma patients were included from the Victorian State Trauma Registry with a date of injury from July 2009 to June 2019. Outcomes of interest were survival to hospital discharge and function and health status at 6 months post-injury. Survival and function were analysed using measures of discrimination and calibration, whereas health status was assessed with R
2
and MRSE measures. The area under the receiver operating characteristic curve (AUC) of the VSTR survival model improved when the SI was added (AUC 0.797 (0.787–0.807) versus AUC 0.807 (0.797–0.816),
p
< 0.001). For the prediction of functional outcome 6 months post-injury, the inclusion of the SI increased the AUC marginally (AUC 0.795 (0.786–0.803) versus AUC 0.799 (0.791–0.807),
p
< 0.001). When predicting in-hospital mortality and health status 6 months post-injury, including the SI resulted in a slightly better fit to the registry-risk adjustment model. In the future, external validation and the exploration of other models to improve prediction outcomes are warranted.
Full article
►

▼

Show Figures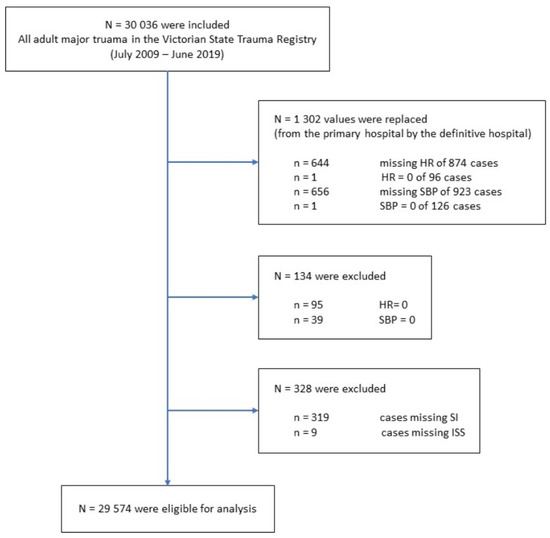 Figure 1