Vitamin D3 and Monomethyl Fumarate Enhance Natural Killer Cell Lysis of Dendritic Cells and Ameliorate the Clinical Score in Mice Suffering from Experimental Autoimmune Encephalomyelitis
Cited by 15
| Viewed by 5641
Abstract
Experimental autoimmune encephalomyelitis (EAE) is a CD4
+
T cell mediated inflammatory demyelinating disease that is induced in mice by administration of peptides derived from myelin proteins. We developed EAE in SJL mice by administration of PLP
139–151
peptide. The effect of treating
[...] Read more.
Experimental autoimmune encephalomyelitis (EAE) is a CD4
+
T cell mediated inflammatory demyelinating disease that is induced in mice by administration of peptides derived from myelin proteins. We developed EAE in SJL mice by administration of PLP
139–151
peptide. The effect of treating these mice with 1α,25-Dihydroxyvitamin D
3
(vitamin D
3
), or with monomethyl fumarate (MMF) was then examined. We observed that both vitamin D
3
and MMF inhibited and/or prevented EAE in these mice. These findings were corroborated with isolating natural killer (NK) cells from vitamin D
3
-treated or MMF-treated EAE mice that lysed immature or mature dendritic cells. The results support and extend other findings indicating that an important mechanism of action for drugs used to treat multiple sclerosis (MS) is to enhance NK cell lysis of dendritic cells.
Full article
►

▼

Show Figures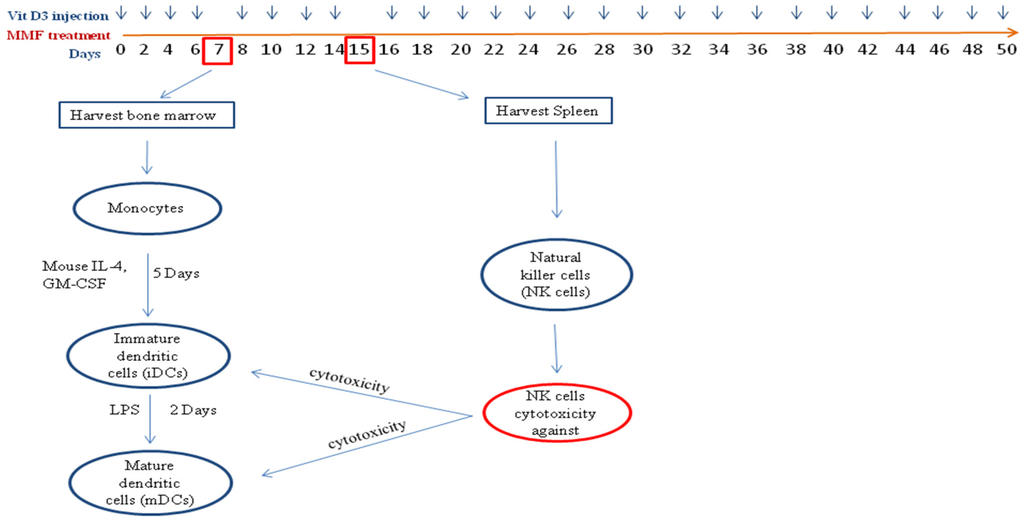 Figure 1