Conferences
Philosophies announces selected third-party conferences. In case you would like to announce your own event on the Philosophies website, please fill out the following form to apply for the announcement of a conference or other academic event (seminar, workshop).
Upcoming Partner Conferences (2)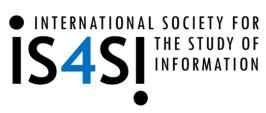 12–19 September 2021
The 2021 Summit of the International Society for the Study of Information September 12–19, 2021 (IS4SI 2021)
Online
The Summit is a biannual event consisting of several co-located conferences on the subject of information with plenary lectures and discussions intended as a forum for the exchange of ideas and information about recent developments and achievements in research on information in the diverse perspectives and methodological frameworks for the purpose of fostering cooperation, integration and cross-fertilization in this domain of study. This time the Summit will be online, free of conference fee. Please visit the web site of the summit (IS4SI 2021) for the important dates, abstract submission instructions, and contribution publication options.
5–7 October 2021
From Logos to Person. 5th Interdisciplinary Conference at The Polis Institute
Jerusalem, Israel
The Interdisciplinary Conference From Logos to Person aims at gathering scholars from the fields of philosophy, linguistics, philology, literature, anthropology and theology to examine the notions of logos and person and their rich interactions throughout history. Contributions emphasizing the place and role of each or any of the four linguistic traditions mentioned in forging this notion will be particularly welcome.