The Privacy Flag Observatory: A Crowdsourcing Tool for Real Time Privacy Threats Evaluation
Viewed by 427
Abstract
Instilling good privacy practices to developers and users appears to be a difficult and daunting task. The World Wide Web encompasses a panspermia of different technologies, commercial and open source
apis
, evolving security standards and protocols that can be deployed towards the
[...] Read more.
Instilling good privacy practices to developers and users appears to be a difficult and daunting task. The World Wide Web encompasses a panspermia of different technologies, commercial and open source
apis
, evolving security standards and protocols that can be deployed towards the implementation of complex, powerful, web applications. At the same time, the proliferation of applications and services on all types of devices has also increased the attack surface for privacy threats. In this paper, we present the Privacy Flag Observatory, a platform which is one of the main tools produced by the Privacy Flag
eu
funded research project. The goal of this initiative is to raise awareness among European citizens of the potential privacy threats that beset the software and services they trust and use every day, including websites and smartphone applications. The Privacy Flag Observatory is one of the components that contributed to a large extent, to the success of the project's goals. It is a real-time security and privacy threat monitoring platform whose aim is to collect, archive, analyze and present security and privacy-related information to the broader public as well as experts. Although the platform relies on crowdsourcing information gathering strategies and interacts with several other components installed on users' devices or remote servers and databases, in this paper, we focus on the observatory platform referring only cursorily to other components such as the mobile phone add-on.
Full article
►

▼

Show Figures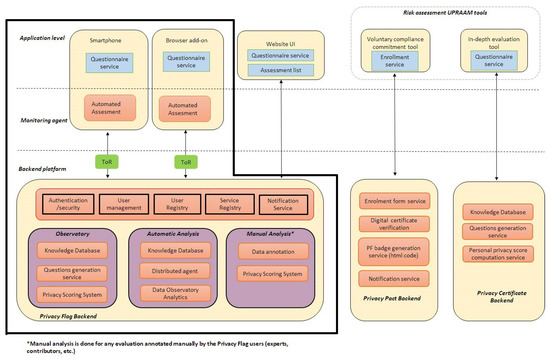 Figure 1