No Association between the SORD Gene and Amyotrophic Lateral Sclerosis in a Chinese Cohort
Viewed by 673
Abstract
Amyotrophic lateral sclerosis (ALS) is a fatal neurodegenerative disorder. Recently a juvenile ALS patient was reported carrying the c.757delG mutation of the sorbitol dehydrogenase (
SORD
) gene, which was also a related mutation of Charcot-Marie-Tooth disease (CMT) and distal hereditary motor neuropathy
[...] Read more.
Amyotrophic lateral sclerosis (ALS) is a fatal neurodegenerative disorder. Recently a juvenile ALS patient was reported carrying the c.757delG mutation of the sorbitol dehydrogenase (
SORD
) gene, which was also a related mutation of Charcot-Marie-Tooth disease (CMT) and distal hereditary motor neuropathy (dHMN). ALS shares pathogenesis and overlapping genes with CMT and dHMN. We used whole-exome sequencing technology to screen the full-length
SORD
gene in 601 Chinese sporadic ALS patients and 174 controls without a history of neurological diseases. No
SORD
pathogenic variants were identified in the ALS patients. Our current results did not find an association between
SORD
and ALS in Chinese patients, and further studies will be required.
Full article
►

▼

Show Figures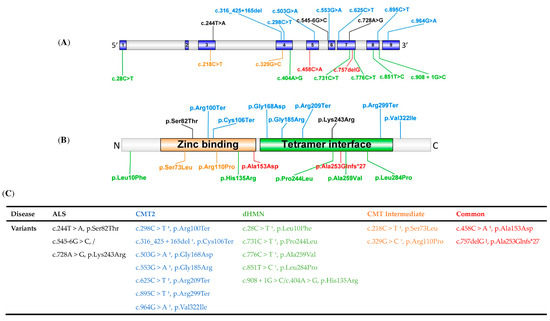 Figure 1