Conferences
Upcoming MDPI Conferences (2)

3 December 2020
Forests Webinar | Emerging Principles of Tree Biology
Online
The ability of trees to adapt acutely and chronically to changing environmental conditions is essential to the sustainability of natural ecosystems globally and managed ecosystems locally, as well as the services they provide. However, many tree species in forests and orchards around the world are being decimated by exotic pests, diseases and climate change. The ability to respond effectively to these forest health issues is limited by our current level of understanding of the unique biology of trees as long-lived woody perennial plants.
The webinar speakers will introduce a Forests Special Issue and associated seminar series dedicated to identifying key, emerging principles of tree biology that urgently need to be addressed through a concerted, integrated, cross-disciplinary effort of geneticists, ecologists, physiologists, pathologists, entomologists, silviculturists, and data modelers employing powerful research tools from ecological genomics, phenomics, metabolomics, imaging, remote sensing, data sciences, and geospatial modeling.
The following experts will present and speak:
Prof. Dr. John E. Carlson, Pennsylvania State University, USA
Prof. Dr. Sally Mackenzie, Pennsylvania State University, USA
Prof. Dr. Albert Abbott, University of Kentucky, USA
When? 3 December 2020 at 6.00pm CET | 12.00pm EST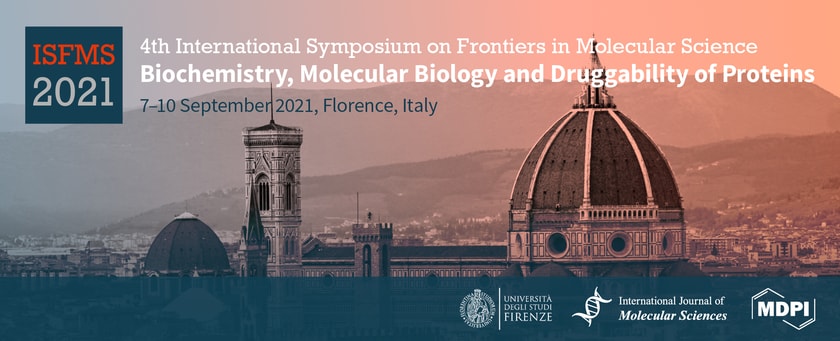 7–10 September 2021
The 4th ISFMS: Biochemistry, Molecular Biology and Druggability of Proteins
Florence, Italy
We would like to invite you to The 4th ISFMS: Biochemistry, Molecular Biology and Druggability of Proteins, which will be held in the wonderful city of Florence, Italy, in the period September 7-10, 2021. The conference will be hosted at the University of Florence, in the biomedical campus nearby the main city hospital, which is easily accessible from the airport, train station or city center. Apart the high quality science which will be presented during the event, our fantastic location will afford the possibility to visit the city in which Leonardo da Vinci, Michelangelo and Galileo Galilei (to mention just a few personalities) lived and created some of their unique artistic and scientific masterpieces. The friendly and peaceful atmosphere of our city will surely favor nice scientific interactions and the possibility to establish interesting contacts with scientists from all over the world in a collaborative manner.
Biology announces selected third-party conferences. In case you would like to announce your own event on the Biology website, please fill out the following form to apply for the announcement of a conference or other academic event (seminar, workshop).
Upcoming Partner Conferences (1)

1 January 2020–1 January 2027
Precision Medicine Congress
London, UK
Oxford Global Conferences are proud to present the Inaugural Precision Medicine Congress, taking place on the 25-26 April 2017 in London.
200 delegates from world renowned academic institutions, hospitals, global pharmaceutical organisations and leading biotechnology companies
Over 20 presentations and case studies focusing on the key developments in precision medicine discovery, diagnostics, clinical development and genomics.
2 interactive streams:
Precision Medicine and Diagnostics in discovery and development
Precision Medicine and Genomics
14 pre-scheduled one to one meetings, exhibition and informal networking opportunities. This event is co-located with our Advances in Companion Diagnostics Congress
Free Pre Congress Webinar
Precision Medicine and Genomic Testing in both Cancer and Inherited Disease
Thursday 23rd February, 2017 3:00 PM GMT
Register for free today http://bit.ly/2e1dCHo
For further information, click here
http://bit.ly/2cBHuNN