A Comparison of Pneumatic and Hand Stripping of Whitefish (
Coregonus lavaretus

) Eggs for Artificial Reproduction

1

Department of Gamete and Embryo Biology, Institute of Animal Reproduction and Food Research, Polish Academy of Sciences, 10-748 Olsztyn, Poland

2

Department of Salmonid Fish Research, Inland Fishery Institute, 83-330 Rutki, Poland

3

Department of Sturgeon Fish Breeding, Inland Fisheries Institute, 11-610 Pozezdrze, Poland

*

Author to whom correspondence should be addressed.

Received: 15 November 2019 / Revised: 16 December 2019 / Accepted: 3 January 2020 / Published: 8 January 2020
Simple Summary
This paper describes a technique of pneumatic stripping of whitefish (Coregonus lavaretus) eggs with the use of oxygen, nitrogen, and air. This study demonstrates that pneumatic stripping allows the collection of high-quality whitefish eggs. Moreover, we found that gas flow rates should not exceed 0.5 L∙min−1 to minimize post-spawning mortality in whitefish. The eggs obtained by pneumatic stripping using oxygen, nitrogen, or air had high hatching rates. We assumed that air stripping is a promising approach for improvement of the whitefish stripping procedure.
We describe the technique of pneumatic stripping of whitefish (
Coregonus lavaretus
) eggs with the use of oxygen, nitrogen, and air. Eggs obtained via the traditional method (by pressing the abdominal surfaces) served as a control group. It was established that the gas flow rate during pneumatic stripping should not exceed 0.5 L∙min
−1
, since higher air flow resulted in increased post-spawning mortality. The pneumatic stripping method of egg collection was no faster than hand stripping; however, the time required per female was more consistent. It was found that the pH of the ovarian fluid obtained during hand and pneumatic stripping was not related to the success rate of fertilization. Pneumatic stripping resulted in a higher quality of collected eggs and a higher and more consistent hatching rate as compared with the hand-stripped samples, regardless of the gas used. The results presented here lead us to recommend the pneumatic method for obtaining eggs from whitefish, since it is a simple, reproducible method and improves the reproductive performance and developmental success of the fish eggs.
View Full-Text
►

▼

Show Figures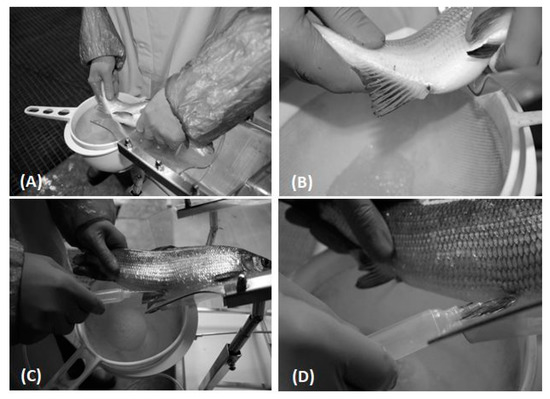 Figure 1
This is an open access article distributed under the
Creative Commons Attribution License
which permits unrestricted use, distribution, and reproduction in any medium, provided the original work is properly cited

MDPI and ACS Style
Kowalski, R.K.; Cejko, B.I.; Grudniewska, J.; Dobosz, S.; Szczepkowski, M.; Sarosiek, B. A Comparison of Pneumatic and Hand Stripping of Whitefish (Coregonus lavaretus) Eggs for Artificial Reproduction. Animals 2020, 10, 97.
Show more citation formats
Show less citations formats
Note that from the first issue of 2016, MDPI journals use article numbers instead of page numbers. See further details
here
.