Efficacy of an Oral Rehydration Solution Enriched with
Lactobacillus reuteri DSM 17938

and Zinc in the Management of Acute Diarrhoea in Infants: A Randomized, Double-Blind, Placebo-Controlled Trial

Division of Gastroenterology and Hepatology, First Department of Pediatrics, University of Athens Children's Hospital "Agia Sofia", Thivon and Papadiamantopoulou, 11527 Athens, Greece

*

Author to whom correspondence should be addressed.

Received: 5 August 2018 / Revised: 22 August 2018 / Accepted: 27 August 2018 / Published: 1 September 2018
Abstract
The efficacy of oral rehydration solution (ORS) enriched with
Lactobacillus reuteri DSM 17938
and zinc in infants with acute gastroenteritis, is poorly defined. The aim of this double-blind, randomized, placebo-controlled study, was to assess the efficacy of an ORS enriched with
Lactobacillus reuteri DSM 17938
and zinc (ORS
+
Lr&Z) in well-nourished, non-hospitalized infants with acute diarrhoea. Fifty one infants with acute diarrhoea were randomly assigned to receive either ORS
+
Lr&Z (28 infants, mean ± SD age 1.7 ± 0.7 years, 21 males), or standard ORS (ORS
−
Lr&Z; 23 infants, mean ± SD age 1.8 ± 0.7 years, 16 males). Stools volume and consistency were recorded pre- and posttreatment using the Amsterdam Infant Stool Scale and were compared between the two groups, as well as lost work/day care days, drug administration and need for hospitalization. Both groups showed reduction in the severity of diarrhoea on day two (
p
< 0.001) while, all outcomes showed a trend to be better in the ORS
+
Lr&Z group, without reaching statistical significance, probably due to the relatively small number of patients. No adverse effects were recorded. In conclusion, both ORS were effective in managing acute diarrhoea in well-nourished, non-hospitalized infants. ORS enriched with
L. reuteri DSM 17938
and zinc was well tolerated with no adverse effects.
View Full-Text
►

▼

Figures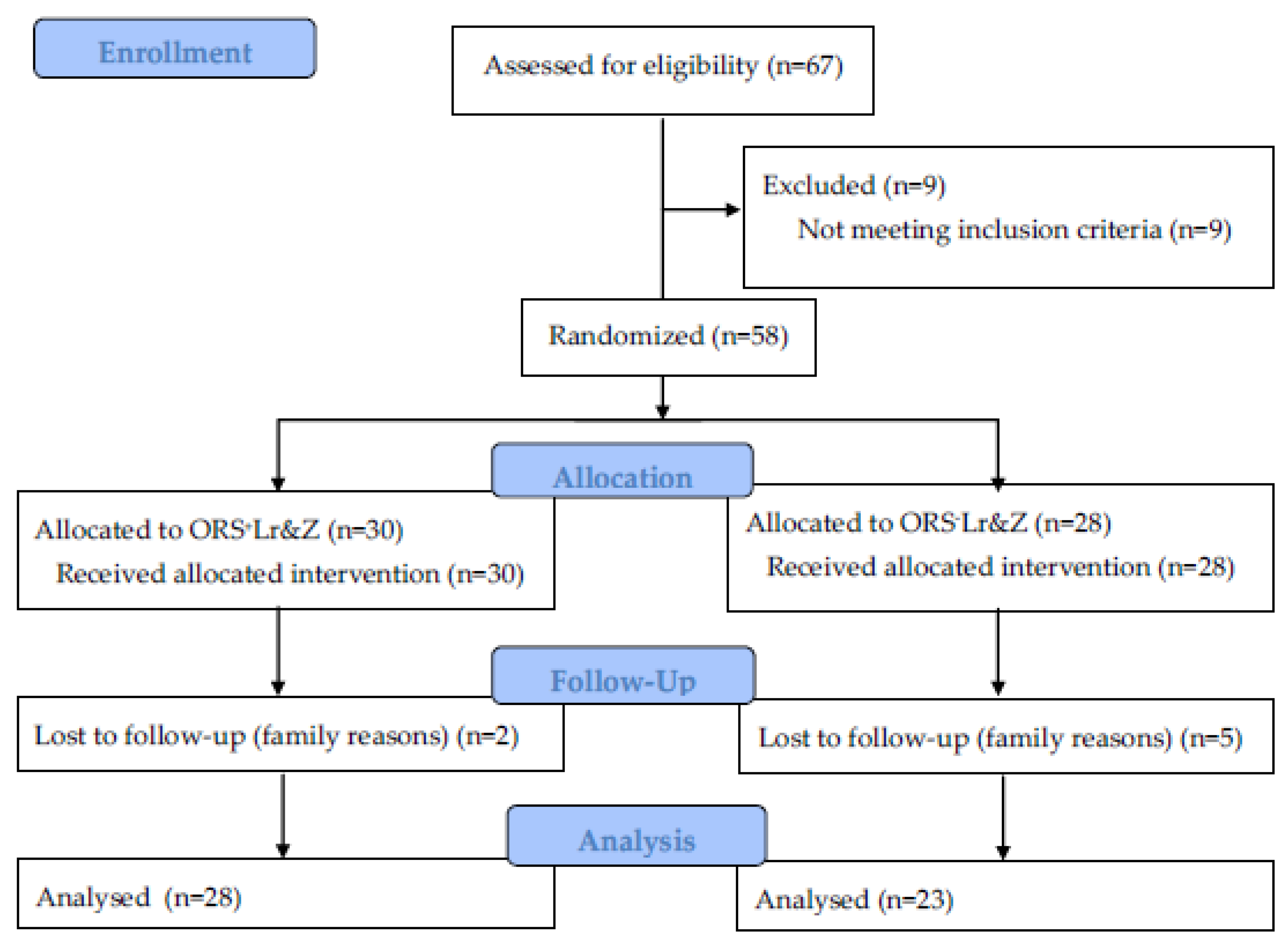 Figure 1
This is an open access article distributed under the
Creative Commons Attribution License
which permits unrestricted use, distribution, and reproduction in any medium, provided the original work is properly cited (CC BY 4.0).

Share & Cite This Article
MDPI and ACS Style
Maragkoudaki, M.; Chouliaras, G.; Moutafi, A.; Thomas, A.; Orfanakou, A.; Papadopoulou, A. Efficacy of an Oral Rehydration Solution Enriched with Lactobacillus reuteri DSM 17938 and Zinc in the Management of Acute Diarrhoea in Infants: A Randomized, Double-Blind, Placebo-Controlled Trial. Nutrients 2018, 10, 1189.
Note that from the first issue of 2016, MDPI journals use article numbers instead of page numbers. See further details here.
Related Articles
Comments
[Return to top]