Functional Role of VCAM-1 Targeted Flavonoid-Loaded Lipid Nanoemulsions in Reducing Endothelium Inflammation
1
Institute of Cellular Biology and Pathology "Nicolae Simionescu", 050568 Bucharest, Romania
2
Faculty of Biotechnologies, University of Agronomic Sciences and Veterinary Medicine (UASVM), 011464 Bucharest, Romania
3
Faculty of Veterinary Medicine, University of Agronomic Sciences and Veterinary Medicine (UASVM), 050097 Bucharest, Romania
*
Author to whom correspondence should be addressed.
Pharmaceutics 2019, 11(8), 391; https://doi.org/10.3390/pharmaceutics11080391 (registering DOI)
Received: 2 July 2019 / Revised: 26 July 2019 / Accepted: 1 August 2019 / Published: 3 August 2019
Abstract
Citrus flavonoids have well-documented protective effects on cardiovascular system, but the poor water solubility and reduced bioavailability restrict their therapeutic use. We aimed to overcome these limitations and encapsulated naringenin and hesperetin into lipid nanoemulsions (LNs), targeted to vascular cell adhesion molecule-1 (VCAM-1), which is expressed on activated endothelial cells (ECs). LNs were characterized by a hydrodynamic size of ~200 nm, negative zeta potential, an encapsulation efficiency of flavonoids higher than 80%, good in vitro stability and steady release of the cargo. The LNs were neither cytotoxic to human ECs line EA.hy926, nor provoked in vitro lysis of murine erithrocytes. Then, we tested whether these nanoformulations reduce tumor necrosis factor-alpha (TNF-α) induced EC-activation. We found that flavonoid-loaded LNs, either non-targeted or targeted to the endothelium, were taken up by the EA.hy926 cells in a dose-dependent manner, but dependent on TNF-α only in the case of endothelium-targeted LNs. Moreover, these nanoparticles inhibited both the adhesion and transmigration of THP-1 monocytes on/through activated ECs, by mechanisms involving a reduced expression of the pro-inflammatory chemokine monocyte chemotactic protein 1 (MCP-1) and diminished nuclear translocation of nuclear factor kappa-light-chain-enhancer of activated B cells (NF-κB).
View Full-Text
►

▼

Figures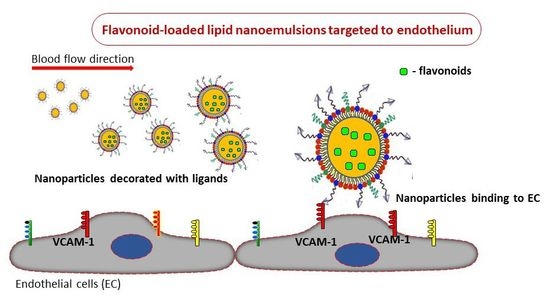 Graphical abstract
This is an open access article distributed under the
Creative Commons Attribution License
which permits unrestricted use, distribution, and reproduction in any medium, provided the original work is properly cited (CC BY 4.0).
Share & Cite This Article
MDPI and ACS Style
Fuior, E.V.; Deleanu, M.; Constantinescu, C.A.; Rebleanu, D.; Voicu, G.; Simionescu, M.; Calin, M. Functional Role of VCAM-1 Targeted Flavonoid-Loaded Lipid Nanoemulsions in Reducing Endothelium Inflammation. Pharmaceutics 2019, 11, 391.
Note that from the first issue of 2016, MDPI journals use article numbers instead of page numbers. See further details here.
Related Articles
Comments
[Return to top]