Pharmacokinetic Profile and Anti-Adhesive Effect of Oxaliplatin-PLGA Microparticle-Loaded Hydrogels in Rats for Colorectal Cancer Treatment
1
College of Pharmacy, Yonsei University, 85 Songdogwahak-ro, Yeonsu-gu, Incheon 21983, Korea
2
Yonsei Institute of Pharmaceutical Sciences, Yonsei University, 85 Songdogwahak-ro, Yeonsu-gu, Incheon 21983, Korea
3
Advanced Analysis Center, Korea Institute of Science and Technology, Hwarang-ro, Seongbuk-gu, Seoul 02792, Korea
4
Division of Colon and Rectal Surgery, Department of Surgery, Gangnam Severance Hospital, Yonsei University College of Medicine, Seoul 06273, Korea
*
Authors to whom correspondence should be addressed.
Received: 14 June 2019 / Revised: 17 July 2019 / Accepted: 1 August 2019 / Published: 5 August 2019
Abstract
Colorectal cancer (CRC) is one of the most malignant and fatal cancers worldwide. Although cytoreductive surgery combined with chemotherapy is considered a promising therapy, peritoneal adhesion causes further complications after surgery. In this study, oxaliplatin-loaded Poly-(
d
,
l
-lactide-co-glycolide) (PLGA) microparticles were prepared using a double emulsion method and loaded into hyaluronic acid (HA)- and carboxymethyl cellulose sodium (CMCNa)-based cross-linked (HC) hydrogels. From characterization and evaluation study PLGA microparticles showed smaller particle size with higher entrapment efficiency, approximately 1100.4 ± 257.7 nm and 77.9 ± 2.8%, respectively. In addition, microparticle-loaded hydrogels showed more sustained drug release compared to the unloaded microparticles. Moreover, in an in vivo pharmacokinetic study after intraperitoneal administration in rats, a significant improvement in the bioavailability and the mean residence time of the microparticle-loaded hydrogels was observed. In HC21 hydrogels, AUC
0–48h
, C
max
, and T
max
were 16012.12 ± 188.75 ng·h/mL, 528.75 ± 144.50 ng/mL, and 1.5 h, respectively. Furthermore, experimental observation revealed that the hydrogel samples effectively protected injured tissues from peritoneal adhesion. Therefore, the results of the current pharmacokinetic study together with our previous report of the in vivo anti-adhesion efficacy of HC hydrogels demonstrated that the PLGA microparticle-loaded hydrogels offer novel therapeutic strategy for CRC treatment.
View Full-Text
►

▼

Figures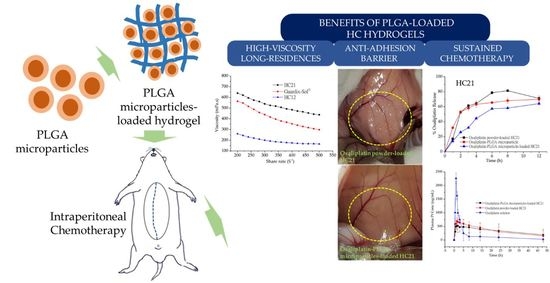 Graphical abstract
This is an open access article distributed under the
Creative Commons Attribution License
which permits unrestricted use, distribution, and reproduction in any medium, provided the original work is properly cited (CC BY 4.0).

Share & Cite This Article
MDPI and ACS Style
Abuzar, S.M.; Ahn, J.-H.; Park, K.S.; Park, E.J.; Baik, S.H.; Hwang, S.-J. Pharmacokinetic Profile and Anti-Adhesive Effect of Oxaliplatin-PLGA Microparticle-Loaded Hydrogels in Rats for Colorectal Cancer Treatment. Pharmaceutics 2019, 11, 392.
Note that from the first issue of 2016, MDPI journals use article numbers instead of page numbers. See further details here.
Related Articles
Comments
[Return to top]