Norway Spruce (
Picea abies

L.) Provenances Use Different Physiological Strategies to Cope with Water Deficit

1

Department of Plant Ecophysiology, Institute of Forest Ecology, Slovak Academy of Sciences, Štúrova 2, 960 53 Zvolen, Slovakia

2

Department of Integrated Forest and Landscape Protection, Faculty of Forestry, Technical University in Zvolen, T. G. Masaryka 24, 960 01 Zvolen, Slovakia

3

Department of Plant Physiology, Faculty of Agrobiology and Food Resources, Slovak University of Agriculture, A. Hlinku 2, 949 76 Nitra, Slovakia

*

Author to whom correspondence should be addressed.

Received: 30 May 2019 / Revised: 24 July 2019 / Accepted: 31 July 2019 / Published: 1 August 2019
Abstract
Research Highlights:
In this study, we found different regulatory mechanisms in two contrasting provenances of Norway spruce responding to progressive drought stress.
Background and Objectives:
In the context of climate and environmental changes, the following question of high importance in scientific studies is: How will Norway spruce, which forms a dominant component in European mountain and boreal forests, be able to cope with the increasing frequencies and intensities of drought periods? The aim of the study was to investigate the physiological responses of eight-month-old seedlings, as a most vulnerable phase of forest tree life, for different spruce provenances, to find out variable strategies in relation to controlled drought stress.
Materials and Methods:
We performed an experiment under controlled conditions with spruce seedlings from a climatologically warmer stand of 410 m above sea level (a.s.l.), and a moderately cool stand of 931 m a.s.l. The soil water content, leaf predawn water potential, the osmotic potential of needles, the relative water content of needles, and the photosynthetic performance and the contents of primary metabolites (proline and abscisic acid) were investigated as indicators of the spruce seedlings' responses to water stress. The status of the indicators was analyzed at different temporal intervals, using repeated measures analysis of variance (ANOVA), reflecting the seedlings' water conditions (early drought, drought, or recovery). On a daily basis, the differences among the indicators were tested with one-way ANOVA. A principal component analysis (PCA) was used to identify the provenance-specific responses of tree drought indicators in a multi-dimensional data set.
Results:
The responses to drought stress differed between the provenances. Whereas seedlings of 'warm' provenance from a low altitude performed a conservation strategy, with high amounts of accumulated abscisic acid and closing the stomata faster, the reactions of 'cool' provenance seedlings from a higher altitude were not so sensitive and the plants' water supply and photosynthetic performance remained significantly higher. These findings indicate that a higher drought resistance in 'cool' provenance could be related to greater amounts of proline amino-acids, which are accumulated from the beginning of the drought simulation. Furthermore, proline accumulation resulting in increased stress tolerance is controlled through another mechanism than osmotic adjustment.
Conclusions:
The observed variations in the regulatory mechanisms used to develop adaptive strategies in different provenances are an important factor for seedling survival under a changing climate.
View Full-Text
►

▼

Figures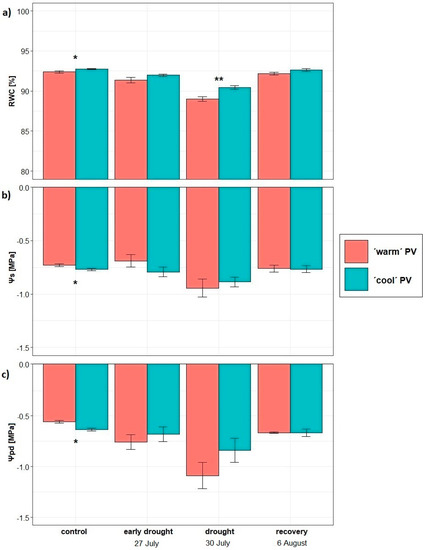 Figure 1
This is an open access article distributed under the
Creative Commons Attribution License
which permits unrestricted use, distribution, and reproduction in any medium, provided the original work is properly cited (CC BY 4.0).

Share & Cite This Article
MDPI and ACS Style
Jamnická, G.; Fleischer, P., Jr.; Konôpková, A.; Pšidová, E.; Kučerová, J.; Kurjak, D.; Živčák, M.; Ditmarová, Ľ. Norway Spruce (Picea abies L.) Provenances Use Different Physiological Strategies to Cope with Water Deficit. Forests 2019, 10, 651.
Note that from the first issue of 2016, MDPI journals use article numbers instead of page numbers. See further details here.
Related Articles
Comments
[Return to top]