Special Issue "Livelihood and Landscape Change in Africa: Future Trajectories for Improved Well-Being under a Changing Climate"
A special issue of Land (ISSN 2073-445X).
Deadline for manuscript submissions: closed (31 January 2018) | Viewed by 76543

Printed Edition Available!
A printed edition of this Special Issue is available
here
.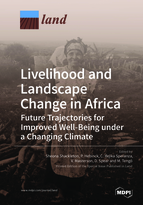 Special Issue Editors
Special Issue Information
Dear Colleagues,
This Special Issue is a follow-up on the one on "Changing Land Uses, Changing Livelihoods,", published in 2016, but with a specific focus on Africa and on exploring the linkages between various aspects of human–environmental change and climate change.
Africa is one of the most vulnerable regions, globally, to climate change. Some of the expected impacts include an increase in extreme weather events, increased exposure to water stress, a decrease in rain-fed agriculture in some countries, and the transformation of some 8% of the land surface towards greater aridity. These impacts are superimposed on a wide range of other shocks and stressors that contribute to vulnerability, such as high levels of poverty, food insecurity, health concerns and shocks, weak governance, resource degradation and land grabs to name but a few. Particularly vulnerable to these interlinked changes are small-holder farmers and other rural dwellers who are primarily dependent on land-based activities and ecosystem services for their livelihoods.
Understanding the interactions between the multiple drivers of landscape and livelihood change and the impacts of and responses to these changes is fundamental to promoting future sustainability. Much research has already indicated that without transformation in how landscapes are used and managed for livelihood production and human well-being, future pathways do not look hopeful for many small-holder farmers and other rural dwellers, especially in the arid and semi-arid regions of the continent.
In this Special Issue we hope to answer some of the following questions. What are the changes we are observing in landscapes and livelihoods in rural Africa? What are the multiple, interacting socio-economic, political and environmental drivers of these changes? How are these changes impacting well-being amongst different social groupings within rural communities? What are the responses to these changes and what do they mean for future livelihood trajectories? Where responses are potentially maladaptive, what transformations are needed to set livelihoods on more sustainable trajectories give the uncertainty associated with climate change? Where have there been success stories and what are the lessons from these?
We are interested in contributions that link social-ecological drivers of change across scale to changes in livelihood strategies and well-being, and landscape functioning and management. This includes papers that consider global environmental change policies and practices that work with local realities and complexities and that avoid the often seen de-politicisation of livelihood and development options. We are also interested in the legacies of colonialism in African landscapes and how these impact current land use and rural livelihoods, as well as the socio-cultural drivers of change or stagnation (and implications for transformation and stewardship).
Contributions may be either based on empirical research (we are particularly interested in place-based research and case studies) or conceptual/theoretical works, examining any key processes, including, but not limited to:
Smallholder agricultural production and adaptation
Land degradation, deforestation and biodiversity loss
Livelihood vulnerability, well-being and resilience
Sustainable land management approaches: stewardship, ecosystem based adaptation, multi-functional landscape management, agroforestry, etc.
Rural-urban linkages, network relationships and transformations
Contributions at the intersection of social-ecological systems thinking, political ecology, land use science, rural sociology and agrarian change are especially welcome, but contributions from other human-environment fields that fore-front smallholder livelihoods and well-being are also highly welcome. Regional diversity in contributions is also desired.
Interested authors should submit their abstracts to Guest Editor, Sheona Shackleton <[email protected]> for assessment and approval before submitting the full manuscripts. Authors are encouraged to submit their abstract as soon as possible before 30 September 2017 deadline.
Prof. Dr. Sheona Shackleton
Dr. Paul Hebinck
Prof. Dr. Chinwe Ifejika Speranza
Dr. Vanessa Masterson
Dr. Dian Spear
Dr. Maria Tengö
Guest Editor