Conferences
Upcoming MDPI Conferences (1)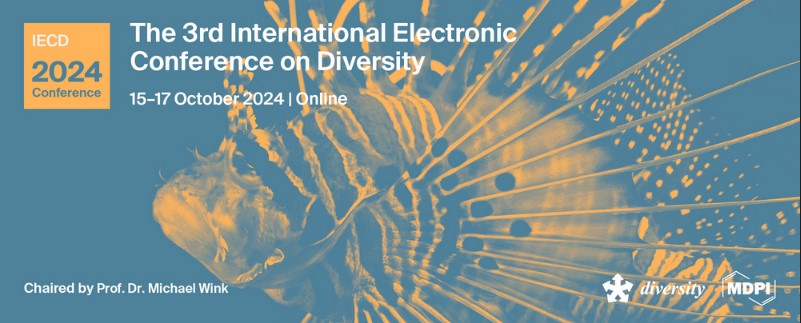 15–17 October 2024
The 3rd International Electronic Conference on Diversity
Online
[IECD 2024] Present your work at the 3rd International Electronic Conference on Diversity
Dear researchers,
We are pleased to announce that the 3rd International Electronic Conference on Diversity (IECD 2024) is back. The conference is organized by the MDPI journal Diversity (ISSN: 1424-2818, Impact Factor: 2.4) and will take place virtually on 15–17 Oct 2024, Central European Summer Time, online.
IECD 2024 invites researchers from academia, as well as diversity practitioners, to contribute original findings, novel ideas, scientific concepts, new technologies and experiences to address diversity in various fields. The conference will focus on fostering discussions related to animal and plant diversity, with a special emphasis on conservation. We encourage submissions that refer to the following topics:
Animal diversity;
Biodiversity conservation;
Marine diversity;
Microbial diversity and culture collections;
Phylogeny and evolution;
Plant diversity.
Important Dates
Deadline for abstract submission: 15th June 2024
Abstract acceptance notification: 15th July 2024
Registration deadline: 10th October 2024
Guide for Authors
To submit your abstract, please click on the following link:
https://sciforum.net/user/submission/create/1067
To register for the event, please click on the following link:
https://iecd2024.sciforum.net/#registration
Note: We accept abstracts only for this conference. To publish a conference proceedings paper for free and submit a full manuscript to Diversity (ISSN: 1424-2818, Impact Factor: 2.4), please refer to the "Publication Opportunities" part in the "Instructions for Authors" section.
Best Oral Presentation Award and Best Poster Award
Number of Awards Available: 4
There will be four winners selected for these awards. The winners will each receive an award of CHF 200, along with an offer to publish an extended paper, free of charge, in the Special Issue of Diversity.
For any enquiries regarding the event, please contact: [email protected].
We look forward to seeing you at the 3rd International Electronic Conference on Diversity.
Kind regards,
Conference Chair
Professor Michael Wink
Institute of Pharmacy and Molecular Biotechnology, Heidelberg University, Heidelberg, Germany
Your IECD 2024 Organizing Team
Land announces selected third-party conferences. In case you would like to announce your own event on the Land website, please fill out the following form to apply for the announcement of a conference or other academic event (seminar, workshop).
Upcoming Partner Conferences (2)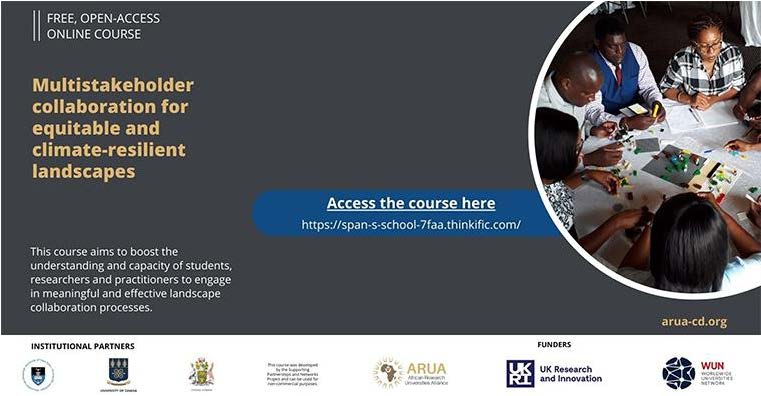 1 July–31 December 2023
Open Access Short Course on Multistakeholder Collaboration for Equitable and Climate-Resilient Landscapes
Online
Dear Colleagues,
We would like to introduce the ARUA Centre of Excellence in Climate and Development's (ARUA-CD) open access, short course on multistakeholder collaboration for equitable and climate-resilient landscapes, which was developed on the basis of the Special Issue in Land: "Collaboration and Multi-Stakeholder Engagement in Landscape Governance and Management in Africa: Lessons from Practice".
The course covers both theoretical and practical aspects of collaboration using video and text lessons and would be very useful to postgraduates and early career researchers. Participants found the course to be informative and helpful.
The idea for the course was conceived amidst ongoing interactions and conversations between ARUA-CD partners on the theme of climate-resilient landscapes in Africa. This project is the culmination of months of collaboration between academics, facilitators, and science communicators as we worked to respond to the real needs of early career researchers working in landscape management and governance and to help to fill gaps in current training and curricula.
Click here to access the course material on Thinkific. If you already have a Thinkific account, you'll go straight into the course, but if you do not, you'll be prompted to quickly (and freely) create one.
https://span-s-school-7faa.thinkific.com/courses/SPaN-short-course

11–12 December 2023
14th Southern Forestry and Natural Resource Management GIS Conference
Athens, GA, USA
The University of Georgia and the Warnell School of Forestry and Natural Resources invite researchers and professionals in forestry and natural resource management to a conference devoted to issues and advances in the use of geographic information systems (GIS) and related mapping and spatial technologies.
Topics will include the following:
Mapping;
UAVs;
Forest inventory;
Geospatial technologies;
Forest health;
Natural hazards/fires in forestry;
Forest economics and policy;
Recreation;
GPS;
LiDAR;
Biomass and bioenergy;
GPS accuracy assessments;
Remote sensing;
Urban forestry;
Forest sustainability;
Invasive species.