Connecting Air Pollution Exposure to Socioeconomic Status: A Cross-Sectional Study on Environmental Injustice among Pregnant Women in Scania, Sweden
Cited by 2
| Viewed by 1254
Abstract
Environmental injustice, characterized by lower socioeconomic status (SES) persons being subjected to higher air pollution concentrations, was explored among pregnant women in Scania, Sweden. Understanding if the general reduction of air pollution recorded is enjoyed by all SES groups could illuminate existing inequalities
[...] Read more.
Environmental injustice, characterized by lower socioeconomic status (SES) persons being subjected to higher air pollution concentrations, was explored among pregnant women in Scania, Sweden. Understanding if the general reduction of air pollution recorded is enjoyed by all SES groups could illuminate existing inequalities and inform policy development. "Maternal Air Pollution in Southern Sweden", an epidemiological database, contains data for 48,777 pregnancies in Scanian hospital catchment areas and includes births from 1999–2009. SES predictors considered included education level, household disposable income, and birth country. A Gaussian dispersion model was used to model women's average NO
X
and PM
2.5
exposure at home residence over the pregnancy period. Total concentrations were dichotomized into emission levels below/above respective Swedish Environmental Protection Agency (EPA) Clean Air objectives. The data were analyzed using binary logistic regression. A sensitivity analysis facilitated the investigation of associations' variation over time. Lower-SES women born outside Sweden were disproportionately exposed to higher pollutant concentrations. Odds of exposure to NO
X
above Swedish EPA objectives reduced over time, especially for low-SES persons. Environmental injustice exists in Scania, but it lessened with declining overall air pollution levels, implying that continued air quality improvement could help protect vulnerable populations and further reduce environmental inequalities.
Full article
►

▼

Show Figures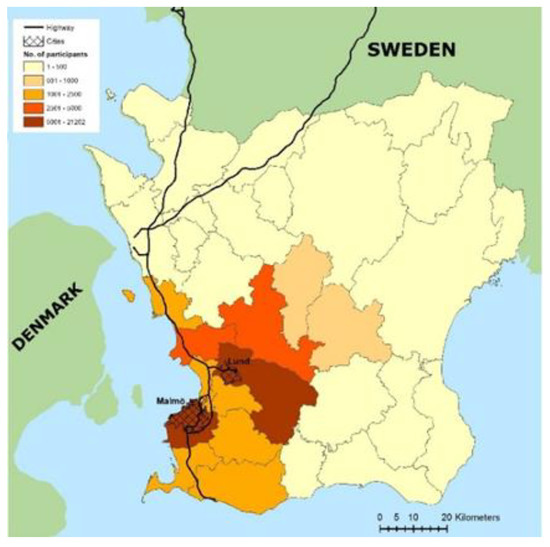 Figure 1