Conferences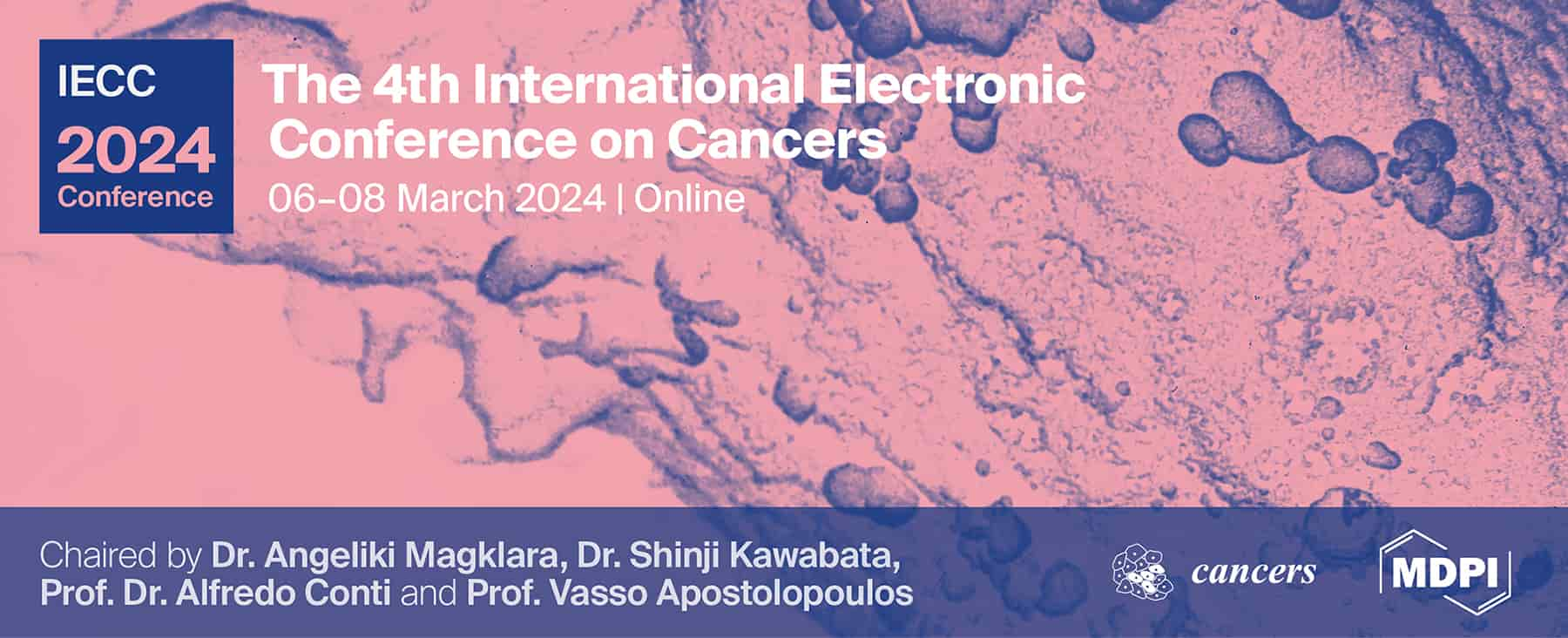 The conference is organized by MDPI Cancers (ISSN: 2072-6694, Impact Factor: 5.2 (2022)) and will take place virtually on CEST 6–8 March 2024.
Conference Chairs
Dr. Angeliki Magklara, Laboratory of Clinical Chemistry, Faculty of Medicine, School of Health Sciences, University of Ioannina and Institute of Molecular Biology and Biotechnology, Foundation of Research and Technology-Hellas, Greece
Dr. Shinji Kawabata, Department of Neurosurgery, Osaka Medical and Pharmaceutical University, Japan
Prof. Dr. Alfredo Conti, Unit of Neurosurgery, IRCCS Istituto delle Scienze Neurologiche di Bologna, Italy
Professor Vasso Apostolopoulos, Institute for Health and Sport, Victoria University, Australia
The Topics of Interest
SESSION A. Brain Metastases
SESSION B. Cancer Biomarkers
SESSION C. Cancer Immunology and Immunotherapy
SESSION D. Tumor Microenvironment
SESSION E. Molecular Cancer Biology
SESSION F. Cancer Epidemiology and Prevention
SESSION G. Cancer Therapy
SESSION H. Cancer Pathophysiology
Important Dates
Deadline for abstract submission: 7th November 2023
Notification of acceptance: 7th December 2023
Deadline for Early Bird Registration: 8th January 2024
Guide for Authors
To submit your abstract, please click on the following link: https://sciforum.net/user/submission
To register for the event, please click on the following link: https://sciforum.net/event/IECC2024#registration
For details regarding Abstract Submission, Poster and Slides Submission, Publication Opportunities, you may refer to "Instructions for Authors".
For any enquiries regarding the event, please contact: [email protected]
We look forward to seeing you at the 4th International Electronic Conference on Cancers.