Dietary Fiber and Lysolecithin Supplementation in Growing Ducks: Effect on Performance, Immune Response, Intestinal Morphology and Lipid Metabolism-Regulating Genes
Viewed by 392
Abstract
The impact of different dietary fiber (DF) levels (with or without lysolecithin supplementation) on growth performance, immune response, expression of some lipid regulating genes and intestinal morphology was assessed in 408 Pekin ducks for 2 months. Soybean hulls were added to the diet
[...] Read more.
The impact of different dietary fiber (DF) levels (with or without lysolecithin supplementation) on growth performance, immune response, expression of some lipid regulating genes and intestinal morphology was assessed in 408 Pekin ducks for 2 months. Soybean hulls were added to the diet to provide four different levels of DF: 2.4 (control diet), 3.8, 5.3, and 6.7% for the first four groups, respectively, while groups 5 to 8 fed the same four levels of DF with lysolecithin addition. Increasing dietary DF non-significantly reduced (
p
> 0.05) the ducks' body weight (BW). However, ducks fed on 3.8% DF showed higher BW and improved feed conversion ratio. Lysolecithin supplementation with different DF did not support growth performance. Increasing DF with or without lysolecithin had no effect on serum lipid profile (
p
> 0.05). However, serum high-density lipoproteins (HDL) concentration was significantly increased with increasing fiber level in diet (
p
˂ 0.05). Increasing DF with or without lysolecithin addition increased serum antioxidant activities and improved the immune response in terms of phagocytic and lysozyme activities. The DF level reduced the duodenal villi length and mucosal layer thickness while increased the villi width (
p
˂ 0.05). Lysolecithin supplementation to diets ameliorated adverse effects on intestinal morphology. Moreover, DF level in ducks' diet with or without lysolecithin significantly upregulated the expression of fatty acid synthase and lipoprotein lipase (
p
˂ 0.05). Thus, it could be concluded that ducks fed on soybean hulls containing a diet at the level of 4.5% and providing 3.8% fiber level with or without lysolecithin showed the best performance.
Full article
►

▼

Show Figures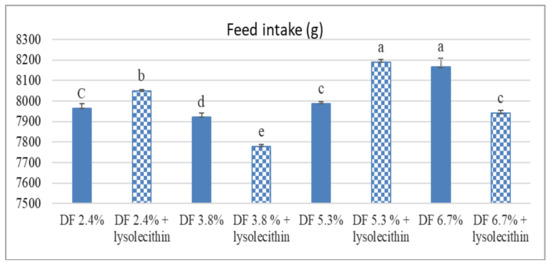 Figure 1