Novel Structures and Magnetic Properties of Two [Mn2] Complexes with 2,4-di-2-pyridyl-2,4-pentanediol as the Ligand
1
Department of Chemistry, Fu Jen Catholic University, Hsinchuang, New Taipei 24205, Taiwan
2
Instrumentation Centre, College of Science, National Taiwan University, Taipei 10672, Taiwan
3
National Synchrotron Radiation Research Center, NSRRC, Hsinchu 30076, Taiwan
*
Author to whom correspondence should be addressed.
Received: 15 June 2019 / Revised: 8 July 2019 / Accepted: 10 July 2019 / Published: 13 July 2019
Abstract
Two ligands, 2,4-di-2-pyridyl-2,4-pentanediol (rD and mD), were employed to synthesize two Mn
2
complexes, [Mn
2
(rD)
2
Br
2
] (
1
) and [Mn
2
(mD)
2
(H
2
O)
2
]Br
2
(
2
). Compound
1
crystallized in a tetragonal space group, P4
1
2
1
2, with a novel hamburger shaped structure. A detailed study indicated that compound
1
did not contain a metal–metal bond, but antiferromagnetic coupling was observed between the Mn(III) ions. Compound
2
crystallized in a monoclinic space group, C2/c, with one Mn(II) and the other with Mn(IV). The two manganese ions were bridged by two alkoxide ligands, resulting in ferromagnetic coupling. Magnetic property studies confirm the above assignments.
View Full-Text
►

▼

Figures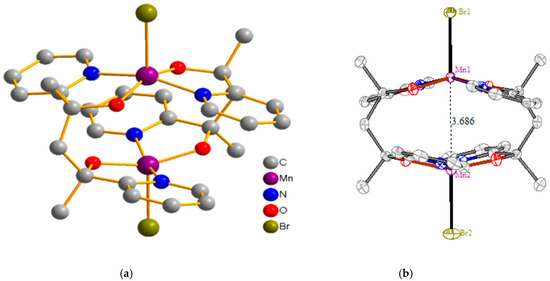 Figure 1
This is an open access article distributed under the
Creative Commons Attribution License
which permits unrestricted use, distribution, and reproduction in any medium, provided the original work is properly cited (CC BY 4.0).

Share & Cite This Article
MDPI and ACS Style
Yang, E.-C.; Chang, Y.-Y.; Huang, S.-Y.; Hong, L.-X.; Lee, G.-H.; Sheu, H.-S.; Chang, C.-K. Novel Structures and Magnetic Properties of Two [Mn2] Complexes with 2,4-di-2-pyridyl-2,4-pentanediol as the Ligand. Magnetochemistry 2019, 5, 43.
Note that from the first issue of 2016, MDPI journals use article numbers instead of page numbers. See further details here.
Related Articles
Comments
[Return to top]