Sex Differences in Plasma MicroRNA Biomarkers of Early and Complicated Diabetes Mellitus in Israeli Arab and Jewish Patients
1
MIGAL Galilee Research Institute, Kiryat Shmona 1101602, Israel
2
Tel Hai Academic College, Upper Galilee 1220800, Israel
3
Department of Internal Medicine A, Galilee Medical Center, Nahariya 89, Israel
4
Department of Gastroenterology, Galilee Medical Center, Nahariya 89, Israel
5
Director, Galilee Medical Center, Nahariya 89, Israel
6
The Azrieli Faculty of Medicine, Bar Ilan University, Safed 5290002, Israel
*
Author to whom correspondence should be addressed.
Received: 24 January 2019 / Revised: 29 March 2019 / Accepted: 4 April 2019 / Published: 5 April 2019
Abstract
MicroRNAs play functional roles in the etiology of type 2 diabetes mellitus (T2DM) and complications, and extracellular microRNAs have attracted interest as potential biomarkers of these conditions. We aimed to identify a set of plasma microRNAs, which could serve as biomarkers of T2DM and complications in a mixed Israeli Arab/Jewish patient sample. Subjects included 30 healthy volunteers, 29 early-stage T2DM patients, and 29 late-stage T2DM patients with renal and/or vascular complications. RNA was isolated from plasma, and the levels of 12 candidate microRNAs were measured by quantitative reverse transcription and polymerase chain reaction (qRT-PCR). MicroRNA levels were compared between the groups and correlated to clinical measurements, followed by stepwise regression analysis and discriminant analysis. Plasma miR-486-3p and miR-423 were respectively up- and down-regulated in T2DM patients compared to healthy controls. MiR-28-3p and miR-423 were up-regulated in patients with complicated T2DM compared to early T2DM, while miR-486-3p was down-regulated. Combined, four microRNAs (miR-146a-5p, miR-16-2-3p, miR-126-5p, and miR-30d) could distinguish early from complicated T2DM with 77% accuracy and 79% sensitivity. In male patients only, the same microRNAs, with the addition of miR-423, could distinguish early from complicated T2DM with 83.3% accuracy. Furthermore, plasma microRNA levels showed significant correlations with clinical measurements, and these differed between men and women. Additionally, miR-183-5p levels differed significantly between the ethnic groups. Our study identified a panel of specific plasma microRNAs which can serve as biomarkers of T2DM and its complications and emphasizes the importance of sex differences in their clinical application.
View Full-Text
►

▼

Figures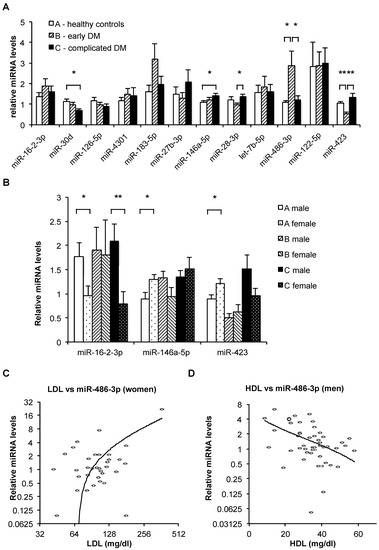 Figure 1
This is an open access article distributed under the
Creative Commons Attribution License
which permits unrestricted use, distribution, and reproduction in any medium, provided the original work is properly cited (CC BY 4.0).

Share & Cite This Article
MDPI and ACS Style
Meerson, A.; Najjar, A.; Saad, E.; Sbeit, W.; Barhoum, M.; Assy, N. Sex Differences in Plasma MicroRNA Biomarkers of Early and Complicated Diabetes Mellitus in Israeli Arab and Jewish Patients. Non-Coding RNA 2019, 5, 32.
Note that from the first issue of 2016, MDPI journals use article numbers instead of page numbers. See further details here.
Related Articles
Comments
[Return to top]