Administration of Enalapril Started Late in Life Attenuates Hypertrophy and Oxidative Stress Burden, Increases Mitochondrial Mass, and Modulates Mitochondrial Quality Control Signaling in the Rat Heart
1
Fondazione Policlinico Universitario "Agostino Gemelli" IRCSS, Università Cattolica del Sacro Cuore, L.go A. Gemelli 1, 00168 Rome, Italy
2
Institute of Internal Medicine and Geriatrics, Università Cattolica del Sacro Cuore, 00168 Rome, Italy
3
Department of Biosciences, Biotechnologies and Biopharmaceutics, University of Bari, 70125 Bari, Italy
4
Institute of Surgical Sciences, Fondazione Policlinico Universitario "Agostino Gemelli" IRCSS, 00168 Rome, Italy
5
Department of Aging and Geriatric Research, Institute on Aging, Division of Biology of Aging, University of Florida, Gainesville, FL 32611, USA
6
Department of Medicine, Division of Gerontology, Geriatrics and Palliative Care, Nathan Shock Center of Excellence in the Basic Biology of Aging, University of Alabama at Birmingham, Birmingham, AL 35205, USA
†
These two authors contributed equally to this work.
*
Author to whom correspondence should be addressed.
Received: 11 September 2018 / Revised: 3 December 2018 / Accepted: 12 December 2018 / Published: 17 December 2018
Abstract
Mitochondrial dysfunction is a relevant mechanism in cardiac aging. Here, we investigated the effects of late-life enalapril administration at a non-antihypertensive dose on mitochondrial genomic stability, oxidative damage, and mitochondrial quality control (MQC) signaling in the hearts of aged rats. The protein expression of selected mediators (i.e., mitochondrial antioxidant enzymes, energy metabolism, mitochondrial biogenesis, dynamics, and autophagy) was measured in old rats randomly assigned to receive enalapril (
n
= 8) or placebo (
n
= 8) from 24 to 27 months of age. We also assessed mitochondrial DNA (mtDNA) content, citrate synthase activity, oxidative lesions to protein and mtDNA (i.e., carbonyls and the abundance of mtDNA
4834
deletion), and the mitochondrial transcription factor A (TFAM) binding to specific mtDNA regions. Enalapril attenuated cardiac hypertrophy and oxidative stress-derived damage (mtDNA oxidation, mtDNA
4834
deletion, and protein carbonylation), while increasing mitochondrial antioxidant defenses. The binding of mitochondrial transcription factor A to mtDNA regions involved in replication and deletion generation was enhanced following enalapril administration. Increased mitochondrial mass as well as mitochondriogenesis and autophagy signaling were found in enalapril-treated rats. Late-life enalapril administration mitigates age-dependent cardiac hypertrophy and oxidative damage, while increasing mitochondrial mass and modulating MQC signaling. Further analyses are needed to conclusively establish whether enalapril may offer cardioprotection during aging.
View Full-Text
►

▼

Figures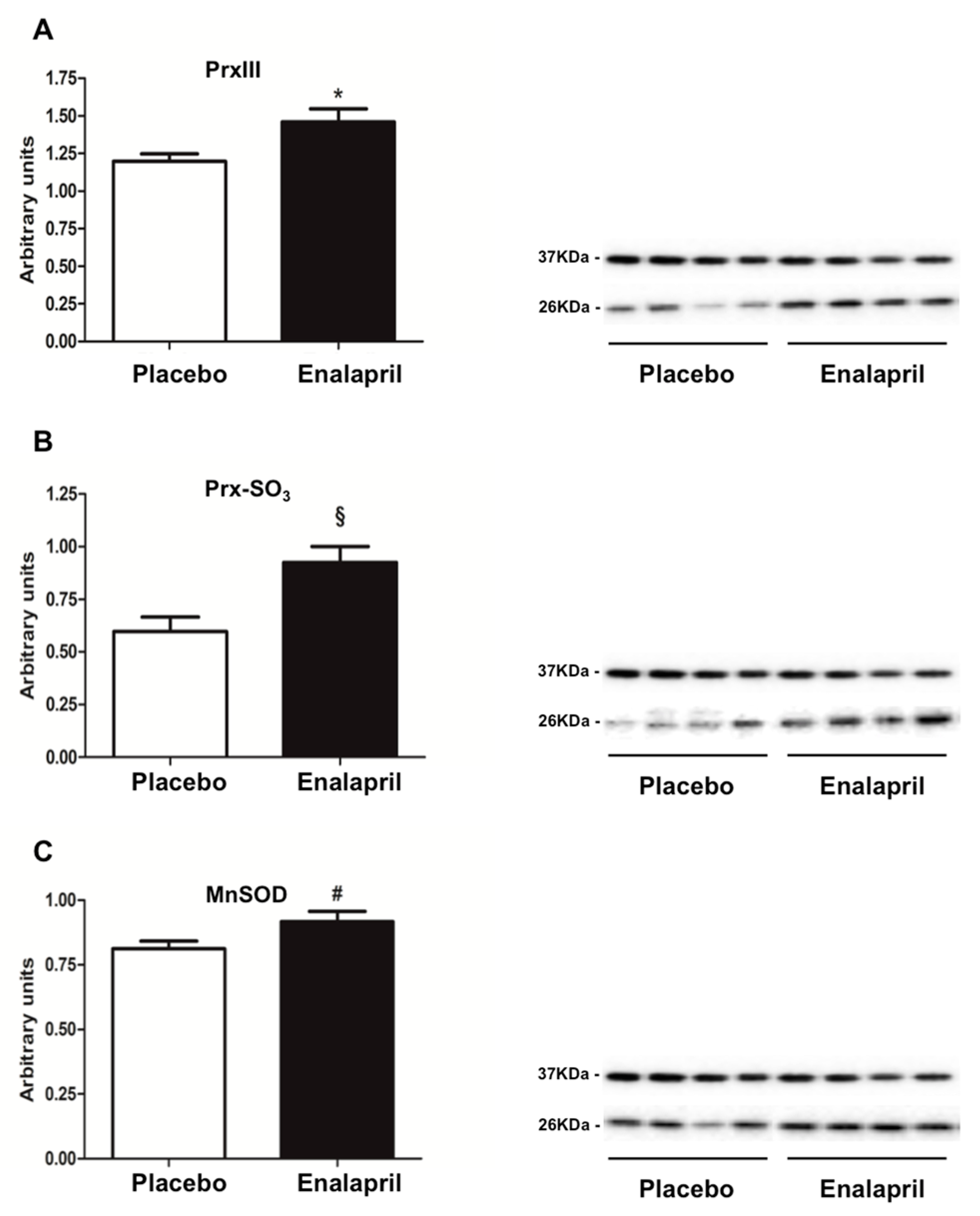 Figure 1
This is an open access article distributed under the
Creative Commons Attribution License
which permits unrestricted use, distribution, and reproduction in any medium, provided the original work is properly cited (CC BY 4.0).

Share & Cite This Article
MDPI and ACS Style
Picca, A.; Sirago, G.; Pesce, V.; Lezza, A.M.S.; Calvani, R.; Bossola, M.; Villani, E.R.; Landi, F.; Leeuwenburgh, C.; Bernabei, R.; Carter, C.S.; Marzetti, E. Administration of Enalapril Started Late in Life Attenuates Hypertrophy and Oxidative Stress Burden, Increases Mitochondrial Mass, and Modulates Mitochondrial Quality Control Signaling in the Rat Heart. Biomolecules 2018, 8, 177.
Note that from the first issue of 2016, MDPI journals use article numbers instead of page numbers. See further details here.
Related Articles
Comments
[Return to top]