Re-Configuration of Sphingolipid Metabolism by Oncogenic Transformation
Prince of Wales Clinical School, Faculty of Medicine, University of New South Wales, Sydney, NSW 2052, Australia
*
Author to whom correspondence should be addressed.
Received: 24 December 2013 / Revised: 11 February 2014 / Accepted: 27 February 2014 / Published: 14 March 2014
Abstract
The sphingolipids are one of the major lipid families in eukaryotes, incorporating a diverse array of structural variants that exert a powerful influence over cell fate and physiology. Increased expression of sphingosine kinase 1 (SPHK1), which catalyses the synthesis of the pro-survival, pro-angiogenic metabolite sphingosine 1-phosphate (S1P), is well established as a hallmark of multiple cancers. Metabolic alterations that reduce levels of the pro-apoptotic lipid ceramide, particularly its glucosylation by glucosylceramide synthase (GCS), have frequently been associated with cancer drug resistance. However, the simple notion that the balance between ceramide and S1P, often referred to as the sphingolipid rheostat, dictates cell survival contrasts with recent studies showing that highly potent and selective SPHK1 inhibitors do not affect cancer cell proliferation or survival, and studies demonstrating higher ceramide levels in some metastatic cancers. Recent reports have implicated other sphingolipid metabolic enzymes such as acid sphingomyelinase (ASM) more strongly in cancer pathogenesis, and highlight lysosomal sphingolipid metabolism as a possible weak point for therapeutic targeting in cancer. This review describes the evidence implicating different sphingolipid metabolic enzymes and their products in cancer pathogenesis, and suggests how newer systems-level approaches may improve our overall understanding of how oncogenic transformation reconfigures sphingolipid metabolism.
View Full-Text
►

▼

Figures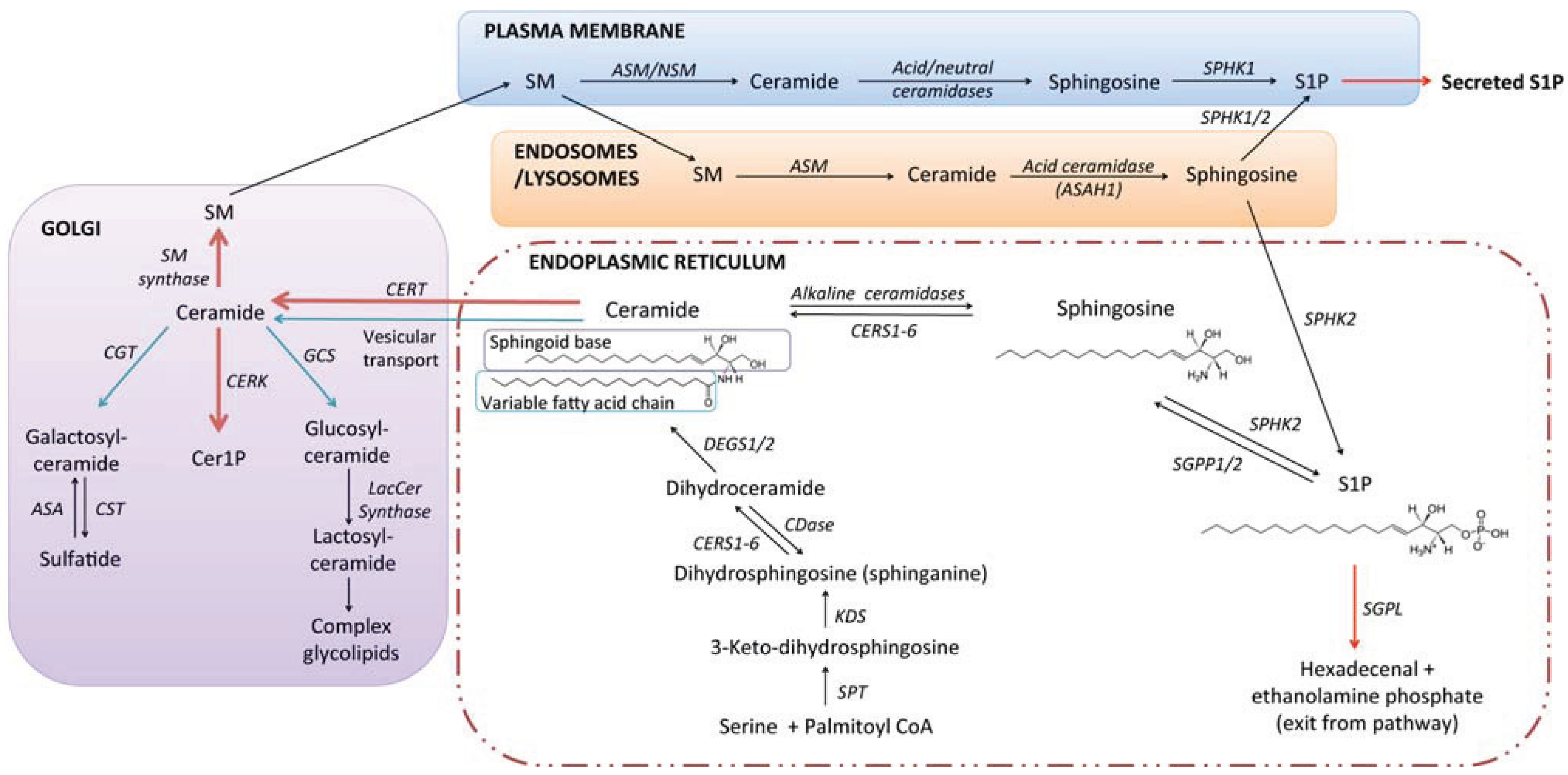 Figure 1

Share & Cite This Article
MDPI and ACS Style
Don, A.S.; Lim, X.Y.; Couttas, T.A. Re-Configuration of Sphingolipid Metabolism by Oncogenic Transformation. Biomolecules 2014, 4, 315-353.
Related Articles
Comments
[Return to top]