Maternal High Fat Diet and in-Utero Metformin Exposure Significantly Impact upon the Fetal Renal Proteome of Male Mice
Department of Pediatrics and Adolescent Medicine, University of Cologne, Medical Faculty and University Hospital Cologne, 50937 Cologne, Germany
*
Author to whom correspondence should be addressed.
Received: 15 March 2019 / Revised: 30 April 2019 / Accepted: 8 May 2019 / Published: 11 May 2019
Abstract
There is accumulating evidence for fetal programming of later kidney disease by maternal obesity or associated conditions. We performed a hypothesis-generating study to identify potentially underlying mechanisms. Female mice were randomly split in two groups and fed either a standard diet (SD) or high fat diet (HFD) from weaning until mating and during pregnancy. Half of the dams from both groups were treated with metformin ((M), 380 mg/kg), resulting in four experimental groups (SD, SD-M, HFD, HFD-M). Caesarean section was performed on gestational day 18.5. Fetal kidney tissue was isolated from cryo-slices using laser microdissection methods and a proteomic screen was performed. For single proteins, a fold change ≥1.5 and
q
-value <0.05 were considered to be statistically significant. Interestingly, HFD versus SD had a larger effect on the proteome of fetal kidneys (56 proteins affected; interaction clusters shown for proteins concerning transcription/translation, mitochondrial processes, eicosanoid metabolism, H2S-synthesis and membrane remodeling) than metformin exposure in either SD (29 proteins affected; clusters shown for proteins involved in transcription/translation) or HFD (6 proteins affected; no cluster). By further analysis, ATP6V1G1, THY1, PRKCA and NDUFB3 were identified as the most promising candidates potentially mediating reprogramming effects of metformin in a maternal high fat diet.
View Full-Text
►

▼

Figures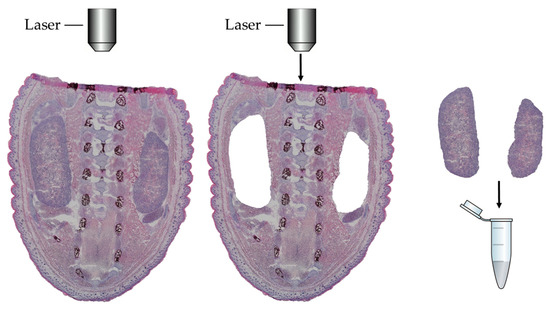 Figure 1
This is an open access article distributed under the
Creative Commons Attribution License
which permits unrestricted use, distribution, and reproduction in any medium, provided the original work is properly cited (CC BY 4.0).

Share & Cite This Article
MDPI and ACS Style
Nüsken, E.; Turnwald, E.-M.; Fink, G.; Voggel, J.; Yosy, C.; Kretschmer, T.; Handwerk, M.; Wohlfarth, M.; Weber, L.T.; Hucklenbruch-Rother, E.; Dötsch, J.; Nüsken, K.-D.; Appel, S. Maternal High Fat Diet and in-Utero Metformin Exposure Significantly Impact upon the Fetal Renal Proteome of Male Mice. J. Clin. Med. 2019, 8, 663.
Note that from the first issue of 2016, MDPI journals use article numbers instead of page numbers. See further details here.
Related Articles
Comments
[Return to top]