Vitis vinifera

L. Leaf Extract Inhibits In Vitro Mediators of Inflammation and Oxidative Stress Involved in Inflammatory-Based Skin Diseases

1

Department of Pharmacological and Biomolecular Sciences, Università degli Studi di Milano, 20133 Milan, Italy

2

Department of Pharmaceutical Sciences, Università degli Studi di Milano, 20133 Milan, Italy

3

Department Environmental Science and Policy, Università degli Studi di Milano, 20133 Milan, Italy

*

Authors to whom correspondence should be addressed.

Received: 26 April 2019 / Revised: 11 May 2019 / Accepted: 13 May 2019 / Published: 16 May 2019
Abstract
Psoriasis is a chronic cutaneous condition characterized by the release of pro-inflammatory mediators and oxidative stress. The reduction of these factors is currently the most effective strategy to inhibit the symptoms of pathology. Antioxidants from natural sources are increasingly used to improve skin conditions. Dried red leaves from grapevine (
Vitis vinifera
L., cv Teinturiers) showed anti-inflammatory and anti-bacterial activities, but their possible effects on keratinocytes have not been previously investigated. In this study we tested the ability of a water extract from grapevine leaves (VVWE) to inhibit inflammatory conditions in human keratinocytes (HaCaT cells), challenged with proinflammatory (tumor necrosis factor-α (TNF-α) or lipopolysaccharide (LPS)) or prooxidant (ultraviolet B radiation (UVB) or H
2
O
2
) mediators. VVWE inhibited interleukin-8 (IL-8) secretion induced by proinflammatory stimuli, acting on the IL-8 promoter activity, but the effect was lower when prooxidant mediators were used. The effect was partly explained by the reduction of nuclear factor-κB (NF-κB)-driven transcription and nuclear translocation. Furthermore, vascular endothelial growth factor (VEGF) secretion, a regulator of angiogenesis, was inhibited by VVWE, but not matrix metalloproteinase-9 (MMP-9), a protease involved in matrix remodeling. VVWE, assayed on Franz diffusion cell system, showed a marked reduction of High Performance Liquid Chromatography (HPLC)-identified compounds. Pure molecules individually failed to reduce TNF-α-induced IL-8 release, suggesting synergistic effects or the presence of other bioactive compounds still unknown.
View Full-Text
►

▼

Figures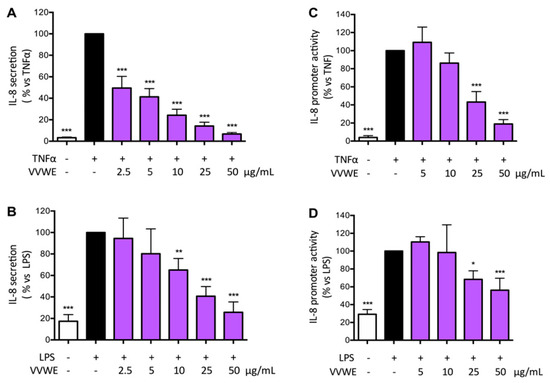 Figure 1
This is an open access article distributed under the
Creative Commons Attribution License
which permits unrestricted use, distribution, and reproduction in any medium, provided the original work is properly cited (CC BY 4.0).

Share & Cite This Article
MDPI and ACS Style
Sangiovanni, E.; Di Lorenzo, C.; Piazza, S.; Manzoni, Y.; Brunelli, C.; Fumagalli, M.; Magnavacca, A.; Martinelli, G.; Colombo, F.; Casiraghi, A.; Melzi, G.; Marabini, L.; Restani, P.; Dell'Agli, M. Vitis vinifera L. Leaf Extract Inhibits In Vitro Mediators of Inflammation and Oxidative Stress Involved in Inflammatory-Based Skin Diseases. Antioxidants 2019, 8, 134.
Note that from the first issue of 2016, MDPI journals use article numbers instead of page numbers. See further details here.
Related Articles
Comments
[Return to top]