The Protective Effect of Alpha-Mangostin against Cisplatin-Induced Cell Death in LLC-PK1 Cells is Associated to Mitochondrial Function Preservation
1
Department of Biology, Faculty of Chemistry, National Autonomous University of Mexico (UNAM), Mexico City 04510, Mexico
2
Department of Nephrology and Laboratory of Renal Pathophysiology, National Institute of Cardiology "Ignacio Chávez", Mexico City 14080, Mexico
3
Department of Pharmacy, Faculty of Chemistry, UNAM, Mexico City 04510, Mexico
*
Author to whom correspondence should be addressed.
Received: 12 April 2019 / Revised: 10 May 2019 / Accepted: 13 May 2019 / Published: 15 May 2019
Abstract
Cis-dichlorodiammineplatinum II (CDDP) is a chemotherapeutic agent that induces nephrotoxicity by different mechanisms, including oxidative stress, mitochondrial dysfunction, autophagy, and endoplasmic reticulum stress. This study aimed to evaluate if the protective effects of the antioxidant alpha-mangostin (αM) in CDDP-induced damage in proximal tubule Lilly laboratory culture porcine kidney (LLC-PK1) cells, are related to mitochondrial function preservation. It was found that αM co-incubation prevented CDDP-induced cell death. Furthermore, αM prevented the CDDP-induced decrease in cell respiratory states, in the maximum capacity of the electron transfer system (E) and in the respiration associated to oxidative phosphorylation (OXPHOS). CDDP also decreased the protein levels of voltage dependence anion channel (VDAC) and mitochondrial complex subunits, which together with the reduction in E, the mitofusin 2 decrease and the mitochondrial network fragmentation observed by MitoTracker Green, suggest the mitochondrial morphology alteration and the decrease in mitochondrial mass induced by CDDP. CDDP also induced the reduction in mitochondrial biogenesis observed by transcription factor A, mitochondria (TFAM) decreased protein-level and the increase in mitophagy. All these changes were prevented by αM. Taken together, our results imply that αM's protective effects in CDDP-induced toxicity in LLC-PK1 cells are associated to mitochondrial function preservation.
View Full-Text
►

▼

Figures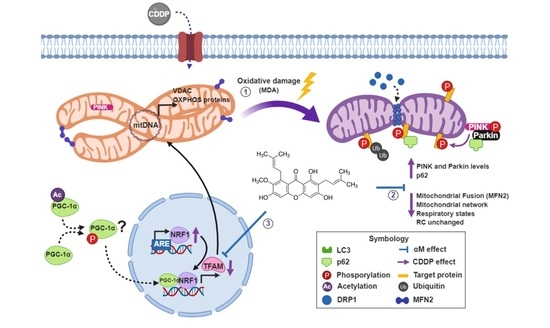 Graphical abstract
This is an open access article distributed under the
Creative Commons Attribution License
which permits unrestricted use, distribution, and reproduction in any medium, provided the original work is properly cited (CC BY 4.0).

Share & Cite This Article
MDPI and ACS Style
Reyes-Fermín, L.M.; Avila-Rojas, S.H.; Aparicio-Trejo, O.E.; Tapia, E.; Rivero, I.; Pedraza-Chaverri, J. The Protective Effect of Alpha-Mangostin against Cisplatin-Induced Cell Death in LLC-PK1 Cells is Associated to Mitochondrial Function Preservation. Antioxidants 2019, 8, 133.
Note that from the first issue of 2016, MDPI journals use article numbers instead of page numbers. See further details here.
Related Articles
Comments
[Return to top]