Pros and Cons of Alternatives to Piglet Castration: Welfare, Boar Taint, and Other Meat Quality Traits
1
IFIP, The French Pork and Pig Institute, La Motte au Vicomte, B.P. 35104, 35 651 Le Rheu CEDEX, France
2
Department of Behavioral Physiology of Livestock 460f, University of Hohenheim, 70599 Stuttgart, Germany
*
Author to whom correspondence should be addressed.
Received: 25 September 2019 / Revised: 22 October 2019 / Accepted: 28 October 2019 / Published: 30 October 2019
Simple Summary
Each alternative to traditional surgical castration has its pros and cons. Depending on the societal context, the production system, and the target market(s), pork supply chains may choose the alternative(s) that best fit(s) their situation. Conflicting aims occur between animal welfare issues and the efficiency of production, whereas product quality and welfare issues are mostly synergic.
This paper reviews the pros and cons of various alternatives to the surgical castration of male piglets without pain relief. Castration is mostly motivated by the presence of boar taint in the meat from some entire male pigs. It results in pain during surgery and markedly increases feed costs and the fat content of the carcass. Raising entire male pigs avoids pain at castration, but animals can suffer from increased stress during the finishing period because of aggressive and mounting behavior. Feed efficiency and carcass quality are much better than in surgical castrates. The quality of meat from entire male pigs is lower because of boar taint, a reduced intramuscular fat content, and increased unsaturation of the fat. Immunocastration prevents boar taint, pain associated with surgery, and stress related to aggressive and mounting behavior. Feed efficiency and carcass quality are intermediate between surgical castrates and entire males. Meat quality is similar to surgical castrates. Anesthesia alone prevents pain during surgery, but not after, while analgesia alone mitigates pain after surgery, but not during it. With the currently available methods, the cost of combined anesthesia and analgesia is too high for conventional production systems in most countries.
View Full-Text
►

▼

Show Figures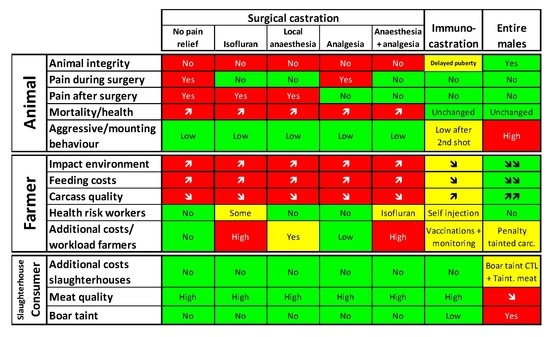 Graphical abstract
This is an open access article distributed under the
Creative Commons Attribution License
which permits unrestricted use, distribution, and reproduction in any medium, provided the original work is properly cited

Note that from the first issue of 2016, MDPI journals use article numbers instead of page numbers. See further details
here
.