Effect of Antibiotic, Phytobiotic and Probiotic Supplementation on Growth, Blood Indices and Intestine Health in Broiler Chicks Challenged with
Clostridium perfringens
1
Department of Animal Production, College of Food and Agriculture Sciences, King Saud University, P.O. Box 2460, Riyadh 11451, Saudi Arabia
2
Department of Basic Sciences, College of Veterinary Medicine, Sudan University of Science and Technology, P.O. Box 121, Khartoum 11123, Sudan
3
Department of Botany and Microbiology, College of Science, King Saud University, P.O. Box 2455, Riyadh 11451, Saudi Arabia
4
Department of Pathology, Faculty of Veterinary Medicine, Zagazig University, Zagazig 44511, Egypt
5
Department of Animal Production, Faculty of Agriculture, Zagazig University, Zagazig 44511, Egypt
6
Department of Theriogenology, Faculty of Veterinary Medicine, Zagazig University, Zagazig 44511, Egypt
*
Authors to whom correspondence should be addressed.
Animals 2020, 10(3), 507; https://doi.org/10.3390/ani10030507 (registering DOI)
Received: 6 February 2020 / Revised: 6 March 2020 / Accepted: 10 March 2020 / Published: 18 March 2020
(This article belongs to the Section
Poultry
)
Simple Summary
Necrotic enteritis is one of the most important economic issues in the poultry industry, associated with sudden death rates of up to 50%. However, there is limited information on the role of probiotics and/or phytobiotic compounds on the treatment and prevention of Clostridium perfringens infections in broiler chicks. This study aimed to assess the effects of probiotic compounds (Maxus, CloStat, Sangrovit Extra, CloStat + Sangrovit Extra and Gallipro Tech) on the growth performance, blood biochemistry and intestinal health of broiler chicks in vivo. The results demonstrated that the inclusion of probiotic and/or phytobiotic compounds has a positive effect on performance, blood constituents, liver histopathology, intestinal morphology and histopathology. Furthermore, a notable reduction in both lesion scores was observed when probiotics and phytobiotics alone or in combination were included in the diets.
This study evaluated the effects of feed additives on the growth, blood biochemistry and intestinal health of broiler chicks. A total of 378 of broiler chicks (Ross 308) were randomly allotted to seven groups. Chicks were fed a basal diet with 0.0 (control negative), 0.0 (control positive), 0.1, 0.5, 0.12, 0.5 + 0.12 and 0.2 g Kg
−1
of Maxus, CloStat, Sangrovit Extra, CloStat + Sangrovit Extra and Gallipro Tech, respectively for 35 days. After 15 days, the chicks were inoculated with
Clostridium perfringens.
All feed additives were found to enhance growth performance and feed efficiency. The best feed conversion ratio was found in the Negative Control, CloStat + Sangrovit Extra and Gallipro Tect groups, respectively. A notable increase in villus length, total villus area, small intestine weight, ilium weight and total lesion score was found in chicks supplemented with
Bacillus subtilis
. Besides, the dietary inclusion of phytobiotic compounds showed potential in reducing the serum Alanine aminotransferase (ALT) concentration and increasing the glucose levels. All intestine and liver histopathological signs were reduced in chicks fed a probiotic-supplemented diet. Our findings indicate that supplementation with probiotics and phytobiotics alone or in combined form can be used to enhance performance, intestine health and blood constituents against
C. perfringens
infection in broiler chicks.
View Full-Text
►

▼

Show Figures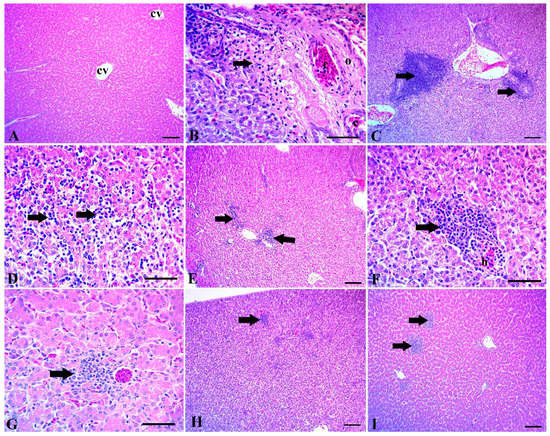 Figure 1
This is an open access article distributed under the
Creative Commons Attribution License
which permits unrestricted use, distribution, and reproduction in any medium, provided the original work is properly cited
MDPI and ACS Style
Hussein, E.O.S.; Ahmed, S.H.; Abudabos, A.M.; Aljumaah, M.R.; Alkhlulaifi, M.M.; Nassan, M.A.; Suliman, G.M.; Naiel, M.A.E.; Swelum, A.A. Effect of Antibiotic, Phytobiotic and Probiotic Supplementation on Growth, Blood Indices and Intestine Health in Broiler Chicks Challenged with Clostridium perfringens. Animals 2020, 10, 507.
Show more citation formats
Show less citations formats
Note that from the first issue of 2016, MDPI journals use article numbers instead of page numbers. See further details
here
.