Increased As Adsorption on Maghemite-Containing Red Mud Prepared by the Alkali Fusion-Leaching Method
Department of Non-ferrous Metals Metallurgy, Ural Federal University named after the first President of Russia B.N. Yeltsin, Yekaterinburg 620002, Russia
*
Author to whom correspondence should be addressed.
Received: 20 December 2018 / Revised: 16 January 2019 / Accepted: 17 January 2019 / Published: 20 January 2019
Abstract
This study investigates the use of red muds as adsorbents for As (V) removal. Red mud is a waste that contains a large amount of iron oxides and hydroxides, which are excellent adsorbents of arsenic, especially those possessing magnetic properties and a large specific surface area. The purpose of the experiments was to study the possibility of obtaining an effective adsorbent by the direct extraction of alumina from bauxite using the caustic alkali fusion method and to compare the arsenic removal effectiveness and other properties of these red muds with industrial samples. Red muds were described using methods such as X-ray diffraction spectrometry (XRD), X-ray fluorescence spectrometry (XRF), SEM, vibrating sample magnetometry (VSM), and the Brunauer–Emmett–Teller (BET) method. The main iron-containing phase of the red muds obtained by fusing bauxite with caustic alkali is maghemite, which has a large specific surface area. The specific surface area of the obtained samples varied in the range of 6.1–54.9 m
2
/g. Arsenic adsorption experiments were carried out using five different types of red muds: industrial Bayer, industrial sintering, and red mud obtained through bauxite alkali fusion at 300, 500, and 700 °C. The red muds obtained by fusing bauxite with caustic alkali at 300 and 500 °C had the highest effectiveness removing arsenic; their As(V) uptake capacity was over 30 mg/g.
View Full-Text
►

▼

Figures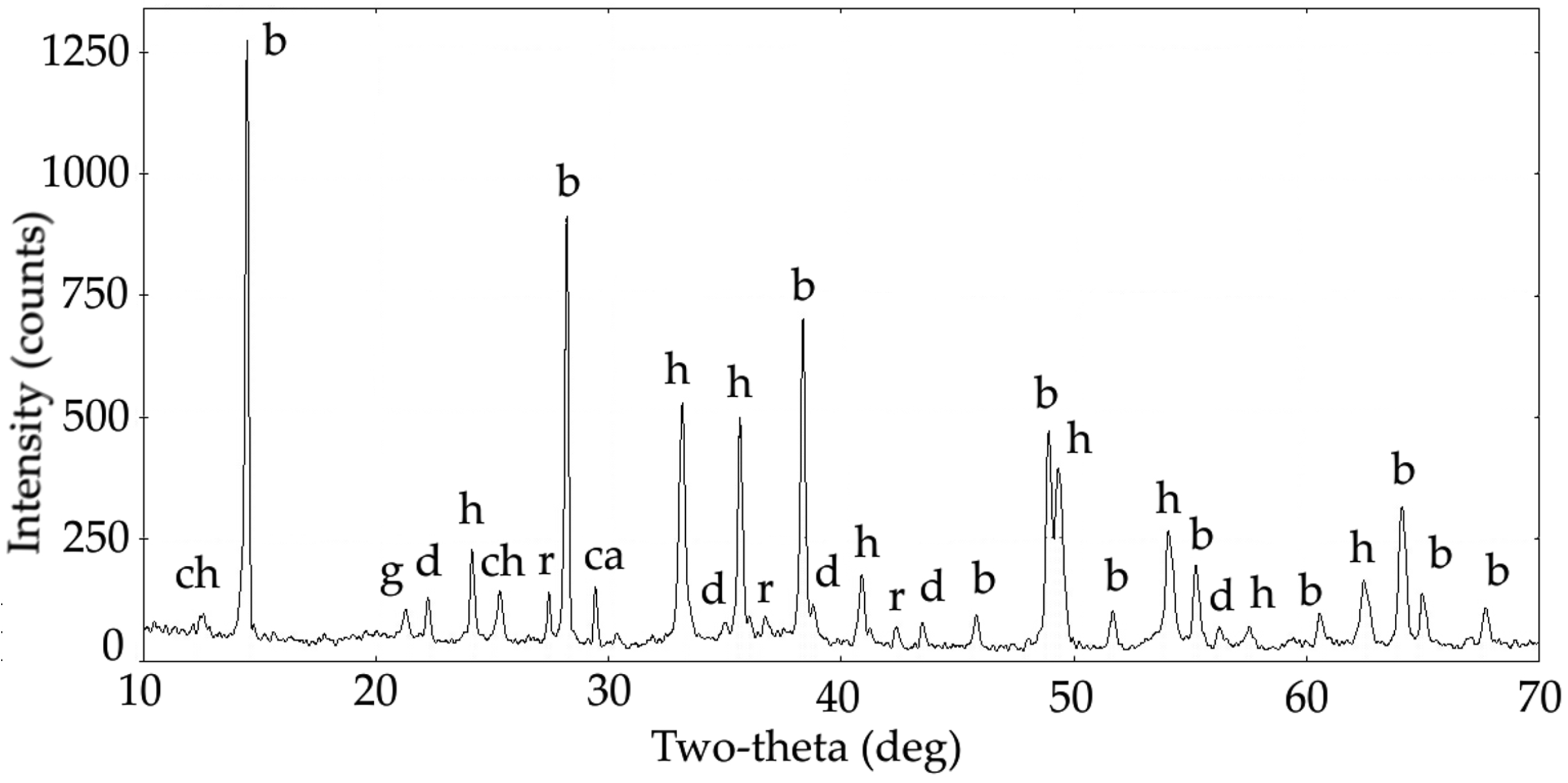 Figure 1
This is an open access article distributed under the
Creative Commons Attribution License
which permits unrestricted use, distribution, and reproduction in any medium, provided the original work is properly cited (CC BY 4.0).

Share & Cite This Article
MDPI and ACS Style
Shoppert, A.A.; Loginova, I.V.; Rogozhnikov, D.A.; Karimov, K.A.; Chaikin, L.I. Increased As Adsorption on Maghemite-Containing Red Mud Prepared by the Alkali Fusion-Leaching Method. Minerals 2019, 9, 60.
Note that from the first issue of 2016, MDPI journals use article numbers instead of page numbers. See further details here.
Related Articles
Comments
[Return to top]