Long-Lived Mantle Plume and Polyphase Evolution of Palaeoproterozoic PGE Intrusions in the Fennoscandian Shield
1
Geological Institute, Kola Science Centre, Russian Academy of Sciences, 184209 Apatity, Russia
2
SRK Consulting, Toronto, ON M4C 1T2, Canada
3
Department of Earth Sciences and Spatial Management, Maria Curie-Skłodowska University, 520-031 Lublin, Poland
*
Author to whom correspondence should be addressed.
Received: 18 October 2018 / Revised: 14 January 2019 / Accepted: 15 January 2019 / Published: 18 January 2019
Abstract
The NE Fennoscandian Shield comprises the Northern Belt in Finland and the Southern Belt in Karelia. They host mafic-ultramafic layered Cu-Ni-Cr and Pt-Pd-bearing intrusions. Precise U-Pb and Sm-Nd analyses indicate the 130-Ma evolution of these intrusions, with major events at 2.53, 2.50, 2.45, and 2.40 Ga. Barren phases were dated at 2.53 Ga for orthopyroxenites and olivine gabbro in the Fedorovo-Pansky massif. PGE-bearing phases of gabbronorites (Pechenga, Fedorovo-Pansky, Monchetundra massifs) and norites (Monchepluton) are 2.50 Ga old. Anorthosites of Mt. Generalskaya (Pechenga), the Fedorovo-Pansky, and Monchetundra massifs occurred at 2.45 Ga. This event produced layered PGE-bearing intrusions in Finland (Penikat, Kemi, Koitelainen) and mafic intrusions in Karelia. The Imandra lopolith dikes occurred at the final phase (2.40 Ga). Slightly negative εNd and I
Sr
values (0.703–0.704) suggest that intrusions originated from an enriched mantle reservoir. Low
3
He/
4
He ratios in accessory minerals (ilmenite and magnetite) indicate an upper mantle source. Large-scale correlations link the Fennoscandian Shield with the Superior and Wyoming cratons.
View Full-Text
►

▼

Figures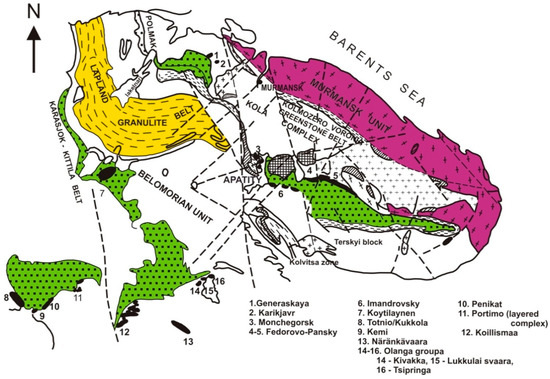 Figure 1
This is an open access article distributed under the
Creative Commons Attribution License
which permits unrestricted use, distribution, and reproduction in any medium, provided the original work is properly cited (CC BY 4.0).

Share & Cite This Article
MDPI and ACS Style
Bayanova, T.; Korchagin, A.; Mitrofanov, A.; Serov, P.; Ekimova, N.; Nitkina, E.; Kamensky, I.; Elizarov, D.; Huber, M. Long-Lived Mantle Plume and Polyphase Evolution of Palaeoproterozoic PGE Intrusions in the Fennoscandian Shield. Minerals 2019, 9, 59.
Note that from the first issue of 2016, MDPI journals use article numbers instead of page numbers. See further details here.
Related Articles
Comments
[Return to top]