Numerical Investigation of Fresh and Salt Water Distribution in the Pearl River Estuary during a Typhoon Using a Fully Coupled Atmosphere-Wave-Ocean Model
1
School of Hydraulic Engineering, Changsha University of Science & Technology, Changsha 410114, China
2
Key Laboratory of Water-Sediment Sciences and Water Disaster Prevention of Hunan Province, Changsha 410114, China
3
School for Marine Science and Technology, University of Massachusetts-Dartmouth, New Bedford, MA 02744, USA
4
Key Laboratory of the Pearl River Estuarine Dynamics and Associated Process Regulation, Ministry of Water Resources, Guangzhou 510611, China
*
Author to whom correspondence should be addressed.
Received: 15 January 2019 / Revised: 15 March 2019 / Accepted: 26 March 2019 / Published: 28 March 2019
Abstract
Typhoons are major marine dynamic disasters that affect the coastal ocean areas of China. During a typhoon, the coupling dynamic factors, such as wind, waves, storm surges, and river runoff, greatly enhance the mass and energy exchange at the various interfaces of the ocean. A fully coupled atmosphere-wave-ocean model in the South China Sea (SCS) was established based on the WRF, SWAN, and ROMS models. The variation of sea surface salinity (SSS) and ocean subsurface salinity caused by Typhoon Kai-tak (201213) was analyzed by the fully coupled model, and the basic characteristics of the response of the upper ocean to the typhoon are given in this paper. The simulation results demonstrate that the salinity of the sea surface showed a sharp change during Typhoon Kai-tak, and it changed gradually after entering the recovery period. During the passage of Typhoon Kai-tak, the disturbance caused by strong winds strengthened the mixing process of the water in the Pearl River Estuary (PRE) and its adjacent waters. As the typhoon developed, under the influence of Ekman pumping, the mixing effect between the subsurface and the bottom and the upper water was obvious. Before the impact of Typhoon Kai-tak, the salinity had obvious stratification characteristics along the water depth. Due to the influence of the storm surge, the surface water with increased salinity was transported to the estuary, which led to an increase in the salinity of the estuary's surface water. In this condition, it is highly likely for there to be saltwater intrusion. The salinity distribution characteristics of three schemes (ROMS model only, coupled WRF-ROMS model, and fully coupled WRF-SWAN-ROMS model) were compared in this study. In the fully coupled WRF-SWAN-ROMS model, the disturbance of the bottom water was the most obvious, and the salinity value was greater than that of the coupled WRF-ROMS model, which indicates that under the influence of waves, the mixing and exchange abilities were strengthened.
View Full-Text
►

▼

Figures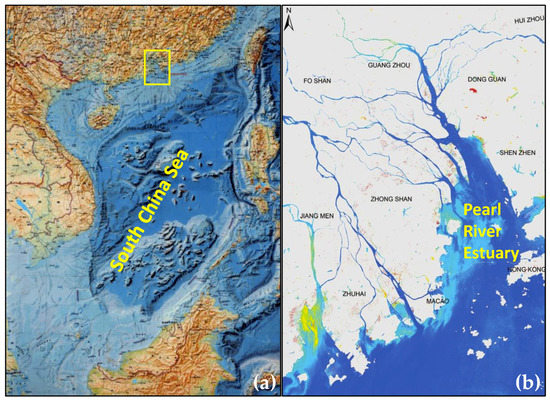 Figure 1
This is an open access article distributed under the
Creative Commons Attribution License
which permits unrestricted use, distribution, and reproduction in any medium, provided the original work is properly cited (CC BY 4.0).

Share & Cite This Article
MDPI and ACS Style
Chen, J.; Jiang, C.; Wu, Z.; Long, Y.; Deng, B.; Liu, X. Numerical Investigation of Fresh and Salt Water Distribution in the Pearl River Estuary during a Typhoon Using a Fully Coupled Atmosphere-Wave-Ocean Model. Water 2019, 11, 646.
Note that from the first issue of 2016, MDPI journals use article numbers instead of page numbers. See further details here.
Related Articles
Comments
[Return to top]