Feasibility Investigation of Improving the Modified Green–Ampt Model for Treatment of Horizontal Infiltration in Soil
1
School of Civil Engineering, Sun Yat-sen University, Guangzhou 510006, China
2
School of Earth Sciences and Engineering, Nanjing University, Nanjing 210023, China
3
Global Education and Infrastructure Service Limited Liability Company, Charlotte, NC 27601, USA
4
Suzhou NanZee Sensing Technology Co. Ltd., Suzhou 215123, China
5
Zhenro Properties Group Ltd., Shanghai 200000, China
*
Authors to whom correspondence should be addressed.
Received: 23 January 2019 / Revised: 11 March 2019 / Accepted: 19 March 2019 / Published: 28 March 2019
Abstract
Water infiltration in soil is a complex process that still requires appreciation of interactions among three phases (soil particles, water and air) to enable accurate estimation of water transport rates. To simulate this process, the Green–Ampt (GA) model and the Modified Green-Ampt (MGA) model introduced in the paper "A new method to estimate soil water infiltration based on a modified Green–Ampt model" have been widely used. The GA model is based on the hypothesis that the advance of the wetting front in soil under matric suction can be treated as a rectangular piston flow that is instantaneously transformed after passage of the infiltration front, and the MGA model does not contain the influence of pore size change. This cannot accurately reflect the soil moisture change process from unsaturation to saturation. Due to soil stratification and other inhomogeneity, predictions produced with these models often differ widely from observations. To quickly obtain the soil moisture distribution after passage of the wetting front for horizontal infiltration, an improved modified Green–Ampt (IMGA) model is presented, which estimates the soil moisture profile along a horizontal column in a piecewise manner with three functions. A logarithmic function is used to describe the gradual soil saturation process in the transmission zone, and two linear functions are used to represent the wetting zone. The algorithm of the IMGA model for estimating the water infiltration rate and cumulative infiltration is configured. To verify the effectiveness of IMGA model, a lab model test was performed, and a numerical model was built to solve the horizontal one-dimensional Richards equation using the finite–element method. The results show that the IMGA model is more accurate than the GA and MGA models. The horizontal soil moisture profiles obtained by the IMGA model are closer to the measured data than the numerical simulation results. The relative errors of the MGA and IMGA models decrease with an increase in infiltration time, whereas that of the GA model first decreases and then increases with infiltration time. The primary novelty of this study is nonlinear description of soil moisture content distribution, and derivation of unit transfer coefficient.
View Full-Text
►

▼

Figures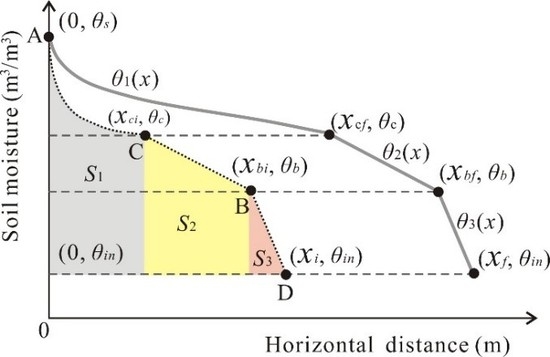 Graphical abstract
This is an open access article distributed under the
Creative Commons Attribution License
which permits unrestricted use, distribution, and reproduction in any medium, provided the original work is properly cited (CC BY 4.0).

Share & Cite This Article
MDPI and ACS Style
Cao, D.-F.; Shi, B.; Zhu, H.-H.; Inyang, H.; Wei, G.-Q.; Zhang, Y.; Tang, C.-S. Feasibility Investigation of Improving the Modified Green–Ampt Model for Treatment of Horizontal Infiltration in Soil. Water 2019, 11, 645.
Note that from the first issue of 2016, MDPI journals use article numbers instead of page numbers. See further details here.
Related Articles
Comments
[Return to top]