Maternally Inherited Differences within Mitochondrial Complex I Control Murine Healthspan
1
Luebeck Institute of Experimental Dermatology, University of Luebeck, 23562 Luebeck, Germany
2
Energy Metabolism Laboratory, Institute of Translational Medicine, Swiss Federal Institute of Technology (ETH) Zurich, 8603 Schwerzenbach, Switzerland
3
Group of Systems Biology, Institute of Cardiogenetics and Luebeck Institute of Experimental Dermatology, University of Luebeck, 23562 Luebeck, Germany
4
Institute for Biostatistics and Informatics in Medicine and Ageing Research, Rostock University Medical Center, 18057 Rostock, Germany
5
Center of Brain, Behavior & Metabolism, University of Luebeck, 23562 Luebeck, Germany
6
Oscar Langendorff Institute of Physiology, Rostock University Medical Center, 18057 Rostock, Germany
7
Institute of Medical Biometry and Statistics, University of Luebeck, 23562 Luebeck, Germany
8
Institute of Chemistry and Metabolomics, University of Luebeck, 23562 Luebeck, Germany
9
Department of Infectious Diseases and Microbiology, University of Luebeck, 23562 Luebeck, Germany
10
Institute of Experimental and Clinical Pharmacology and Toxicology, University of Luebeck, 23562 Luebeck, Germany
11
Institute for Nutritional Medicine, University of Luebeck, 23562 Luebeck, Germany
*
Author to whom correspondence should be addressed.
Received: 12 June 2019 / Revised: 2 July 2019 / Accepted: 10 July 2019 / Published: 13 July 2019
Abstract
Mitochondrial complex I—the largest enzyme complex of the mitochondrial oxidative phosphorylation machinery—has been proposed to contribute to a variety of age-related pathological alterations as well as longevity. The enzyme complex-consisting proteins are encoded by both nuclear (nDNA) and mitochondrial DNA (mtDNA). While some association studies of mtDNA encoded complex I genes and lifespan in humans have been reported, experimental evidence and the functional consequence of such variants is limited to studies using invertebrate models. Here, we present experimental evidence that a homoplasmic mutation in the mitochondrially encoded complex I gene
mt-Nd2
modulates lifespan by altering cellular tryptophan levels and, consequently, ageing-related pathways in mice. A conplastic mouse strain carrying a mutation at m.4738C > A in
mt-Nd2
lived slightly, but significantly, shorter than the controls did. The same mutation led to a higher susceptibility to glucose intolerance induced by high-fat diet feeding. These phenotypes were not observed in mice carrying a mutation in another mtDNA encoded complex I gene,
mt-Nd5
, suggesting the functional relevance of particular mutations in complex I to ageing and age-related diseases.
View Full-Text
►

▼

Figures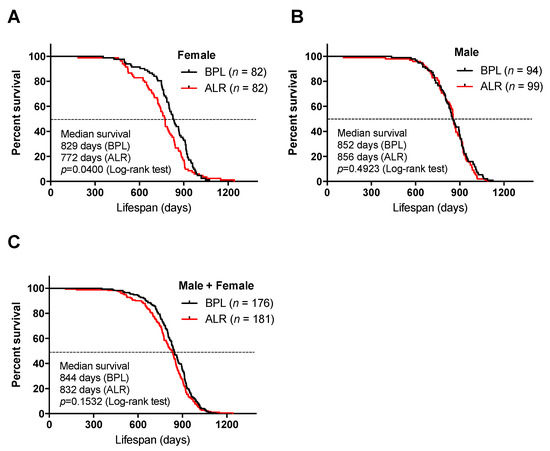 Figure 1
This is an open access article distributed under the
Creative Commons Attribution License
which permits unrestricted use, distribution, and reproduction in any medium, provided the original work is properly cited (CC BY 4.0).

Share & Cite This Article
MDPI and ACS Style
Hirose, M.; Schilf, P.; Zarse, K.; Busch, H.; Fuellen, G.; Jöhren, O.; Köhling, R.; König, I.R.; Richer, B.; Rupp, J.; Schwaninger, M.; Seeger, K.; Sina, C.; Ristow, M.; Ibrahim, S.M. Maternally Inherited Differences within Mitochondrial Complex I Control Murine Healthspan. Genes 2019, 10, 532.
Note that from the first issue of 2016, MDPI journals use article numbers instead of page numbers. See further details here.
Related Articles
Comments
[Return to top]