SCINA: A Semi-Supervised Subtyping Algorithm of Single Cells and Bulk Samples
1
Quantitative Biomedical Research Center, Department of Population and Data Sciences, University of Texas Southwestern Medical Center, Dallas, TX 75390, USA
2
Bioinformatics Core Facility, University of Texas Southwestern Medical Center, Dallas, TX 75390, USA
3
Center for the Genetics of Host Defense, University of Texas Southwestern Medical Center, Dallas, TX 75390, USA
4
Kidney Cancer Program, Simmons Comprehensive Cancer Center, University of Texas Southwestern Medical Center, Dallas, TX 75390, USA
5
Department of Internal Medicine, University of Texas Southwestern Medical Center, Dallas, Texas, TX 75390, USA
6
BioHPC, University of Texas Southwestern Medical Center, Dallas, Texas, TX 75390, USA
7
Molecular Biology Department, Genentech, Inc., South San Francisco, CA 94080, USA
8
Bioinformatics and Computational Biology Department, Genentech, Inc., South San Francisco, CA 94080, USA
9
Department of Pathology, University of Texas Southwestern Medical Center, Dallas, TX 75390, USA
10
Laboratory of Regulatory Genomics, Cecil H. and Ida Green Center for Reproductive Biology Sciences, Division of Basic Reproductive Biology Research, Department of Obstetrics and Gynecology, University of Texas Southwestern Medical Center, Dallas, TX 75390, USA
*
Author to whom correspondence should be addressed.
Received: 23 May 2019 / Revised: 5 July 2019 / Accepted: 8 July 2019 / Published: 12 July 2019
Abstract
Advances in single-cell RNA sequencing (scRNA-Seq) have allowed for comprehensive analyses of single cell data. However, current analyses of scRNA-Seq data usually start from unsupervised clustering or visualization. These methods ignore prior knowledge of transcriptomes and the probable structures of the data. Moreover, cell identification heavily relies on subjective and possibly inaccurate human inspection afterwards. To address these analytical challenges, we developed SCINA (Semi-supervised Category Identification and Assignment), a semi-supervised model that exploits previously established gene signatures using an expectation–maximization (EM) algorithm. SCINA is applicable to scRNA-Seq and flow cytometry/CyTOF data, as well as other data of similar format. We applied SCINA to a wide range of datasets, and showed its accuracy, stability and efficiency, which exceeded most popular unsupervised approaches. SCINA discovered an intermediate stage of oligodendrocytes from mouse brain scRNA-Seq data. SCINA also detected immune cell population changes in cytometry data in a genetically-engineered mouse model. Furthermore, SCINA performed well with bulk gene expression data. Specifically, we identified a new kidney tumor clade with similarity to FH-deficient tumors (FHD), which we refer to as FHD-like tumors (FHDL). Overall, SCINA provides both methodological advances and biological insights from perspectives different from traditional analytical methods.
View Full-Text
►

▼

Figures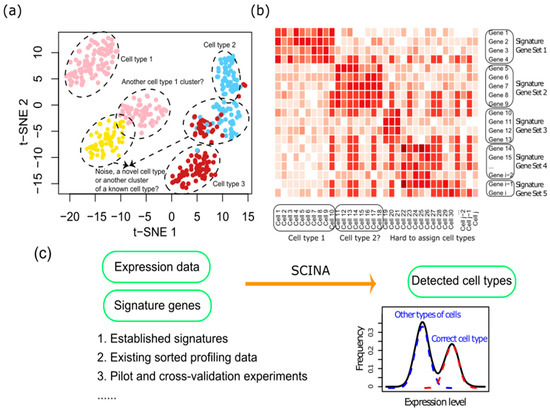 Figure 1
This is an open access article distributed under the
Creative Commons Attribution License
which permits unrestricted use, distribution, and reproduction in any medium, provided the original work is properly cited (CC BY 4.0).

Share & Cite This Article
MDPI and ACS Style
Zhang, Z.; Luo, D.; Zhong, X.; Choi, J.H.; Ma, Y.; Wang, S.; Mahrt, E.; Guo, W.; Stawiski, E.W.; Modrusan, Z.; Seshagiri, S.; Kapur, P.; Hon, G.C.; Brugarolas, J.; Wang, T. SCINA: A Semi-Supervised Subtyping Algorithm of Single Cells and Bulk Samples . Genes 2019, 10, 531.
Note that from the first issue of 2016, MDPI journals use article numbers instead of page numbers. See further details here.
Related Articles
Comments
[Return to top]