Writing Histone Monoubiquitination in Human Malignancy—The Role of RING Finger E3 Ubiquitin Ligases
Translational Oncology Group, School of Life Sciences, Faculty of Science, University of Technology Sydney, Ultimo, NSW 2007, Australia
*
Author to whom correspondence should be addressed.
Received: 24 December 2018 / Revised: 15 January 2019 / Accepted: 15 January 2019 / Published: 18 January 2019
Abstract
There is growing evidence highlighting the importance of monoubiquitination as part of the histone code. Monoubiquitination, the covalent attachment of a single ubiquitin molecule at specific lysines of histone tails, has been associated with transcriptional elongation and the DNA damage response. Sites function as scaffolds or docking platforms for proteins involved in transcription or DNA repair; however, not all sites are equal, with some sites resulting in actively transcribed chromatin and others associated with gene silencing. All events are written by E3 ubiquitin ligases, predominantly of the RING (really interesting new gene) finger type. One of the most well-studied events is monoubiquitination of histone H2B at lysine 120 (H2Bub1), written predominantly by the RING finger complex RNF20-RNF40 and generally associated with active transcription. Monoubiquitination of histone H2A at lysine 119 (H2AK119ub1) is also well-studied, its E3 ubiquitin ligase constituting part of the Polycomb Repressor Complex 1 (PRC1), RING1B-BMI1, associated with transcriptional silencing. Both modifications are activated as part of the DNA damage response. Histone monoubiquitination is a key epigenomic event shaping the chromatin landscape of malignancy and influencing how cells respond to DNA damage. This review discusses a number of these sites and the E3 RING finger ubiquitin ligases that write them.
View Full-Text
►

▼

Figures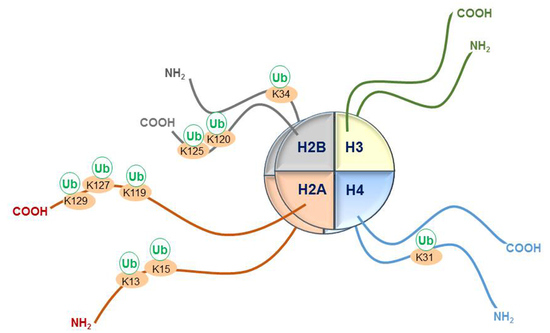 Graphical abstract
This is an open access article distributed under the
Creative Commons Attribution License
which permits unrestricted use, distribution, and reproduction in any medium, provided the original work is properly cited (CC BY 4.0).

Share & Cite This Article
MDPI and ACS Style
Marsh, D.J.; Dickson, K.-A. Writing Histone Monoubiquitination in Human Malignancy—The Role of RING Finger E3 Ubiquitin Ligases. Genes 2019, 10, 67.
Note that from the first issue of 2016, MDPI journals use article numbers instead of page numbers. See further details here.
Related Articles
Comments
[Return to top]