Coordinated Dialogue between UHRF1 and DNMT1 to Ensure Faithful Inheritance of Methylated DNA Patterns
1
Institut de Génétique et de Biologie Moléculaire et Cellulaire (IGBMC), Université de Strasbourg, INSERM U1258 CNRS UMR 7104, 1 rue Laurent Fries, 67404, Illkirch, France
2
Department of Biochemistry, Faculty of Science and Cancer and Mutagenesis Unit, King Fahd Medical Research Center, King Abdulaziz University, Jeddah, Saudi Arabia
3
Laboratoire de Bioimagerie et Pathologies, Faculté de Pharmacie, Université de Strasbourg, CNRS UMR 7021, 67401 Illkirch, France
*
Author to whom correspondence should be addressed.
Received: 26 November 2018 / Revised: 22 December 2018 / Accepted: 11 January 2019 / Published: 18 January 2019
Abstract
DNA methylation, catalyzed by DNA methyltransferases (DNMTs), is an epigenetic mark that needs to be faithfully replicated during mitosis in order to maintain cell phenotype during successive cell divisions. This epigenetic mark is located on the 5′-carbon of the cytosine mainly within cytosine–phosphate–guanine (CpG) dinucleotides. DNA methylation is asymmetrically positioned on both DNA strands, temporarily generating a hemi-methylated state after DNA replication. Hemi-methylation is a particular status of DNA that is recognized by ubiquitin-like containing plant homeodomain (PHD) and really interesting new gene (RING) finger domains 1 (UHRF1) through its SET- (
S
u(var)3-9,
E
nhancer-of-zeste and
T
rithorax) and RING-associated (SRA) domain. This interaction is considered to be involved in the recruitment of DNMT1 to chromatin in order to methylate the adequate cytosine on the newly synthetized DNA strand. The UHRF1/DNMT1 tandem plays a pivotal role in the inheritance of DNA methylation patterns, but the fine-tuning mechanism remains a mystery. Indeed, because DNMT1 experiences difficulties in finding the cytosine to be methylated, it requires the help of a guide, i.e., of UHRF1, which exhibits higher affinity for hemi-methylated DNA vs. non-methylated DNA. Two models of the UHRF1/DNMT1 dialogue were suggested to explain how DNMT1 is recruited to chromatin: (i) an indirect communication via histone H3 ubiquitination, and (ii) a direct interaction of UHRF1 with DNMT1. In the present review, these two models are discussed, and we try to show that they are compatible with each other.
View Full-Text
►

▼

Figures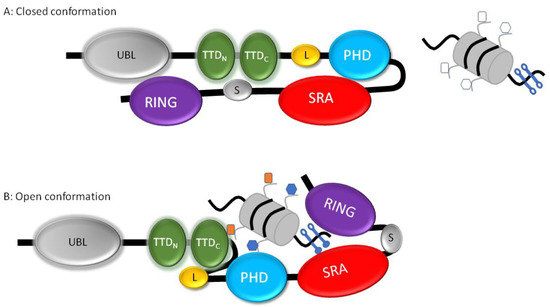 Figure 1
This is an open access article distributed under the
Creative Commons Attribution License
which permits unrestricted use, distribution, and reproduction in any medium, provided the original work is properly cited (CC BY 4.0).

Share & Cite This Article
MDPI and ACS Style
Bronner, C.; Alhosin, M.; Hamiche, A.; Mousli, M. Coordinated Dialogue between UHRF1 and DNMT1 to Ensure Faithful Inheritance of Methylated DNA Patterns. Genes 2019, 10, 65.
Note that from the first issue of 2016, MDPI journals use article numbers instead of page numbers. See further details here.
Related Articles
Comments
[Return to top]