ER-Targeted Beclin 1 Supports Autophagosome Biogenesis in the Absence of ULK1 and ULK2 Kinases
1
Molecular and Integrative Biosciences Research Programme, University of Helsinki, 00014 Helsinki, Finland
2
Institute of Biotechnology & HiLIFE, University of Helsinki, 00014 Helsinki, Finland
3
Institute of Biotechnology, University of Helsinki, 00014 Helsinki, Finland
4
Department of Biomedical and Molecular Sciences and Department of Pathology and Molecular Medicine, Queen's University, Kingston, ON K7L 3N6, Canada
5
Strathclyde Institute of Pharmacy and Biomedical Sciences, University of Strathclyde, Glasgow G4 0RE, UK
6
Institute of Biomedicine, University of Turku, 20520 Turku, Finland
*
Author to whom correspondence should be addressed.
Cells 2019, 8(5), 475; https://doi.org/10.3390/cells8050475 (registering DOI)
Received: 24 April 2019 / Revised: 10 May 2019 / Accepted: 15 May 2019 / Published: 17 May 2019
Abstract
Autophagy transports cytoplasmic material and organelles to lysosomes for degradation and recycling. Beclin 1 forms a complex with several other autophagy proteins and functions in the initiation phase of autophagy, but the exact role of Beclin 1 subcellular localization in autophagy initiation is still unclear. In order to elucidate the role of Beclin 1 localization in autophagosome biogenesis, we generated constructs that target Beclin 1 to the endoplasmic reticulum (ER) or mitochondria. Our results confirmed the proper organelle-specific targeting of the engineered Beclin 1 constructs, and the proper formation of autophagy-regulatory Beclin 1 complexes. The ULK kinases are required for autophagy initiation upstream of Beclin 1, and autophagosome biogenesis is severely impaired in ULK1/ULK2 double knockout cells. We tested whether Beclin 1 targeting facilitated its ability to rescue autophagosome formation in ULK1/ULK2 double knockout cells. ER-targeted Beclin 1 was most effective in the rescue experiments, while mitochondria-targeted and non-targeted Beclin 1 also showed an ability to rescue, but with lower activity. However, none of the constructs was able to increase autophagic flux in the knockout cells. We also showed that wild type Beclin 1 was enriched on the ER during autophagy induction, and that ULK1/ULK2 facilitated the ER-enrichment of Beclin 1 under basal conditions. The results suggest that one of the functions of ULK kinases may be to enhance Beclin 1 recruitment to the ER to drive autophagosome formation.
View Full-Text
►

▼

Figures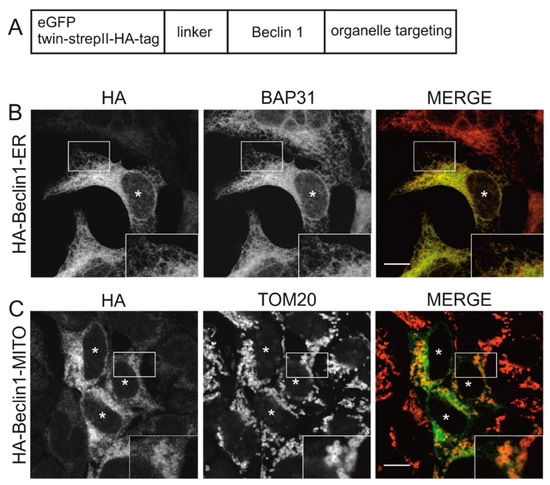 Figure 1
This is an open access article distributed under the
Creative Commons Attribution License
which permits unrestricted use, distribution, and reproduction in any medium, provided the original work is properly cited (CC BY 4.0).
Share & Cite This Article
MDPI and ACS Style
Anwar, T.; Liu, X.; Suntio, T.; Marjamäki, A.; Biazik, J.; Chan, E.Y.W.; Varjosalo, M.; Eskelinen, E.-L. ER-Targeted Beclin 1 Supports Autophagosome Biogenesis in the Absence of ULK1 and ULK2 Kinases. Cells 2019, 8, 475.
Note that from the first issue of 2016, MDPI journals use article numbers instead of page numbers. See further details here.
Related Articles
Comments
[Return to top]