pHluorin-BACE1-mCherry Acts as a Reporter for the Intracellular Distribution of Active BACE1 In Vitro and In Vivo
1
Key Laboratory of Molecular Epigenetics of Ministry of Education, Institute of Cytology and Genetics, Northeast Normal University, Changchun 130024, China
2
Department of Neurosciences, School of Medicine, Case Western Reserve University, Cleveland, OH 44106, USA
3
Department of Neuroscience and Regenerative Medicine, Medical College of Georgia, Augusta University, Augusta, GA 30912, USA
*
Authors to whom correspondence should be addressed.
Received: 21 March 2019 / Revised: 9 May 2019 / Accepted: 15 May 2019 / Published: 17 May 2019
Abstract
β-site APP-cleaving enzyme 1 (BACE1) initiates amyloid precursor protein (APP) cleavage and β-amyloid (Aβ) production, a critical step in the pathogenesis of Alzheimer's disease (AD). It is thus of considerable interest to investigate how BACE1 activity is regulated. BACE1 has its maximal activity at acidic pH and GFP variant—pHluorin—displays pH dependence. In light of these observations, we generated three tandem fluorescence-tagged BACE1 fusion proteins, named pHluorin-BACE1-mCherry, BACE1-mCherry-pHluorin and BACE1-mCherry-EGFP. Comparing the fluorescence characteristics of these proteins in response to intracellular pH changes induced by chloroquine or bafilomycin A1, we found that pHluorin-BACE1-mCherry is a better pH sensor for BACE1 because its fluorescence intensity responds to pH changes more dramatically and more quickly. Additionally, we found that (pro)renin receptor (PRR), a subunit of the v-ATPase complex, which is critical for maintaining vesicular pH, regulates pHluorin's fluorescence and BACE1 activity in pHluorin-BACE1-mCherry expressing cells. Finally, we found that the expression of Swedish mutant APP (APPswe) suppresses pHluorin fluorescence in pHluorin-BACE1-mCherry expressing cells in culture and in vivo, implicating APPswe not only as a substrate but also as an activator of BACE1. Taken together, these results suggest that the pHluorin-BACE1-mCherry fusion protein may serve as a useful tool for visualizing active/inactive BACE1 in culture and in vivo.
View Full-Text
►

▼

Figures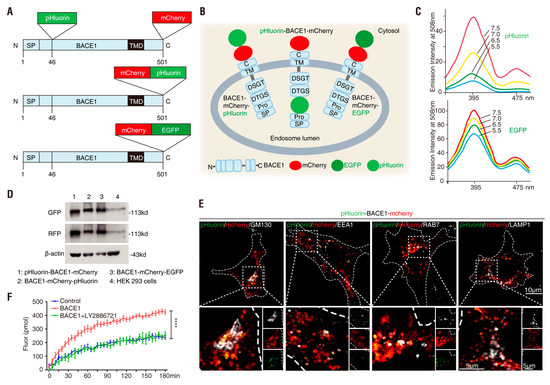 Figure 1
This is an open access article distributed under the
Creative Commons Attribution License
which permits unrestricted use, distribution, and reproduction in any medium, provided the original work is properly cited (CC BY 4.0).

Share & Cite This Article
MDPI and ACS Style
Zhao, L.; Zhao, Y.; Tang, F.-L.; Xiong, L.; Su, C.; Mei, L.; Zhu, X.-J.; Xiong, W.-C. pHluorin-BACE1-mCherry Acts as a Reporter for the Intracellular Distribution of Active BACE1 In Vitro and In Vivo. Cells 2019, 8, 474.
Note that from the first issue of 2016, MDPI journals use article numbers instead of page numbers. See further details here.
Related Articles
Comments
[Return to top]