Functional Characterization of Ubiquitin-Like Core Autophagy Protein ATG12 in
Dictyostelium discoideum
1
Institute of Biochemistry I, Medical Faculty, University Hospital Cologne, 50931 Cologne, Germany
2
Department of Biology, Texas A & M University, Laredo, TX 77843-3474, USA
3
Bioinformatics Core Facility, CECAD Research Center, University Hospital Cologne, 50931 Cologne, Germany
4
Institute for Biophysical Chemistry, Hannover Medical School, 30625 Hannover, Germany
*
Author to whom correspondence should be addressed.
Received: 7 December 2018 / Revised: 15 January 2019 / Accepted: 17 January 2019 / Published: 19 January 2019
Abstract
Autophagy is a highly conserved intracellular degradative pathway that is crucial for cellular homeostasis. During autophagy, the core autophagy protein ATG12 plays, together with ATG5 and ATG16, an essential role in the expansion of the autophagosomal membrane. In this study we analyzed gene replacement mutants of
atg12
in
Dictyostelium discoideum
AX2 wild-type and ATG16‾ cells. RNA
seq
analysis revealed a strong enrichment of, firstly, autophagy genes among the up-regulated genes and, secondly, genes implicated in cell motility and phagocytosis among the down-regulated genes in the generated ATG12‾, ATG16‾ and ATG12‾/16‾ cells. The mutant strains showed similar defects in fruiting body formation, autolysosome maturation, and cellular viability, implying that ATG12 and ATG16 act as a functional unit in canonical autophagy. In contrast, ablation of ATG16 or of ATG12 and ATG16 resulted in slightly more severe defects in axenic growth, macropinocytosis, and protein homeostasis than ablation of only ATG12, suggesting that ATG16 fulfils an additional function in these processes. Phagocytosis of yeast, spore viability, and maximal cell density were much more affected in ATG12‾/16‾ cells, indicating that both proteins also have cellular functions independent of each other. In summary, we show that ATG12 and ATG16 fulfil autophagy-independent functions in addition to their role in canonical autophagy.
View Full-Text
►

▼

Figures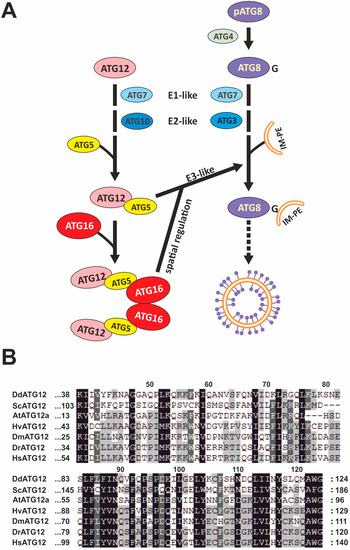 Figure 1
This is an open access article distributed under the
Creative Commons Attribution License
which permits unrestricted use, distribution, and reproduction in any medium, provided the original work is properly cited (CC BY 4.0).

Share & Cite This Article
MDPI and ACS Style
Fischer, S.; Rijal, R.; Frommolt, P.; Wagle, P.; Konertz, R.; Faix, J.; Meßling, S.; Eichinger, L. Functional Characterization of Ubiquitin-Like Core Autophagy Protein ATG12 in Dictyostelium discoideum. Cells 2019, 8, 72.
Note that from the first issue of 2016, MDPI journals use article numbers instead of page numbers. See further details here.
Related Articles
Comments
[Return to top]