Study on Correlation between Structural and Electronic Properties of Fluorinated Oligothiophenes Transistors by Controlling Film Thickness
1
Department of Optics and Photonics, National Central University, Zhongli 320, Taiwan
2
National Synchrotron Radiation Research Center, Hsinchu 300, Taiwan
3
Department of Chemistry, National Tsing-Hua University, Hsinchu 300, Taiwan
*
Author to whom correspondence should be addressed.
Received: 1 February 2019 / Revised: 5 March 2019 / Accepted: 7 March 2019 / Published: 12 March 2019
Abstract
α,ω-diperfluorohexylquaterthiophene (DFH-4T) has been an attractive n-type material employed in the development of high-mobility organic field-effect transistors. This paper presents a systematic study of the relationship between DFH-4T transistor performance and film structure properties as controlled by deposited thickness. When the DFH-4T thickness increases from 8 nm to 80 nm, the room-temperature field-effect mobility increases monotonically from 0.01 to 1 cm
2
·V
−1
·s
−1
, while the threshold voltage shows a different trend of first decrease then increase. The morphology of thin films revealed by atomic force microscopy shows a dramatic change from multilayered terrace to stacked rod like structures as the film thickness is increased. Yet the crystallite structure and the orientation of molecular constituent, as determined by X-ray diffraction and near-edge X-ray absorption fine structure respectively, do not differ much with respect to film thickness increase. Further analyses of low-temperature transport measurements with mobility-edge model demonstrate that the electronic states of DFH-4T transistors are mainly determined by the film continuity and crystallinity of the bottom multilayered terrace. Moreover, the capacitance-voltage measurements of DFH-4T metal-insulator-semiconductor diodes demonstrate a morphological dependence of charge injection from top contacts, which well explains the variation of threshold voltage with thickness. The overall study provides a deeper understanding of microstructural and molecular growth of DFH-4T film and clarify the structural effects on charge transport and injection for implementation of high-mobility top-contact transistors.
View Full-Text
►

▼

Figures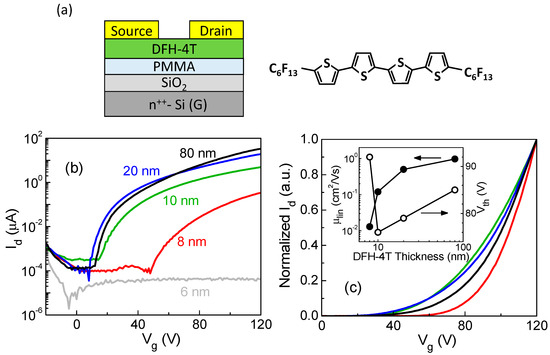 Figure 1
This is an open access article distributed under the
Creative Commons Attribution License
which permits unrestricted use, distribution, and reproduction in any medium, provided the original work is properly cited (CC BY 4.0).

Share & Cite This Article
MDPI and ACS Style
Chang, J.-F.; Shie, H.-S.; Yang, Y.-W.; Wang, C.-H. Study on Correlation between Structural and Electronic Properties of Fluorinated Oligothiophenes Transistors by Controlling Film Thickness. Crystals 2019, 9, 144.
Note that from the first issue of 2016, MDPI journals use article numbers instead of page numbers. See further details here.
Related Articles
Comments
[Return to top]