High-Temperature Cooperative Spin Crossover Transitions and Single-Crystal Reflection Spectra of [FeIII(qsal)2](CH3OSO3) and Related Compounds
1
Department of Chemistry, Graduate School of Science, Kobe University, 1-1 Rokkodai, Nada-ku, Kobe, Hyogo 657-8501, Japan
2
Department of Applied Physics, Okayama University of Science, 1-1 Ridaicho, Kita-ku, Okayama, Okayama 700-0005, Japan
3
Department of Chemistry, Graduate School of Science and Technology, Keio University, 3-14-1 Hiyoshi, Kohoku-ku, Yokohama, Kanagawa 223-8522, Japan
4
Institute for Materials Chemistry and Engineering, Kyushu University, 744 Motooka, Nishi-ku, Fukuoka 819-0395, Japan
5
Institute for Solid State Physics, The University of Tokyo, 5-1-5 Kashiwanoha, Kashiwa, Chiba 277-8581, Japan
*
Author to whom correspondence should be addressed.
Received: 22 January 2019 / Revised: 30 January 2019 / Accepted: 30 January 2019 / Published: 2 February 2019
Abstract
New Fe(III) compounds from qsal ligand, [Fe(qsal)
2
](CH
3
OSO
3
) (
1
) and [Fe(qsal)
2
](CH
3
SO
3
)·CH
3
OH (
3
), along with known compound, [Fe(qsal)
2
](CF
3
SO
3
) (
2
), were obtained as large well-shaped crystals (Hqsal =
N
-(8-quinolyl)salicylaldimine). The compounds
1
and
2
were in the low-spin (LS) state at 300 K and exhibited a cooperative spin crossover (SCO) transition with a thermal hysteresis loop at higher temperatures, whereas
3
was in the high-spin (HS) state below 300 K. The optical conductivity spectra for
1
and
3
were calculated from the single-crystal reflection spectra, which were, to the best of our knowledge, the first optical conductivity spectra of SCO compounds. The absorption bands for the LS and HS [Fe(qsal)
2
] cations were assigned by time-dependent density functional theory calculations. The crystal structures of
1
and
2
consisted of a common one-dimensional (1D) array of the [Fe(qsal)
2
] cation, whereas that of
3
had an unusual 1D arrangement by π-stacking interactions which has never been reported. The crystal structures in the high-temperature phases for
1
and
2
indicate that large structural changes were triggered by the motion of counter anions. The comparison of the crystal structures of the known [Fe(qsal)
2
] compounds suggests the significant role of a large non-spherical counter-anion or solvate molecule for the total lattice energy gain in the crystal of a charged complex.
View Full-Text
►

▼

Figures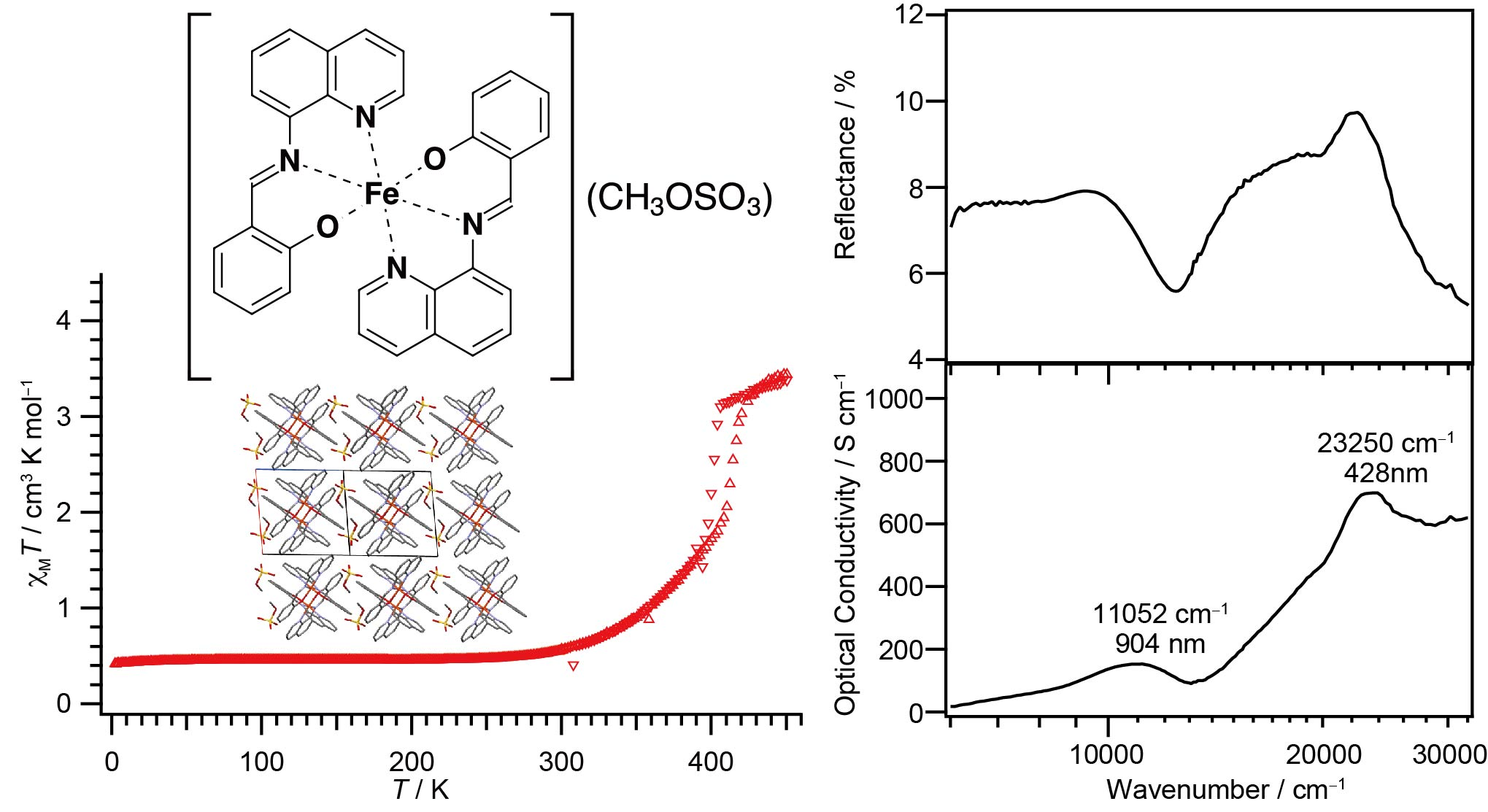 Graphical abstract
This is an open access article distributed under the
Creative Commons Attribution License
which permits unrestricted use, distribution, and reproduction in any medium, provided the original work is properly cited (CC BY 4.0).

Share & Cite This Article
MDPI and ACS Style
Takahashi, K.; Yamamoto, K.; Yamamoto, T.; Einaga, Y.; Shiota, Y.; Yoshizawa, K.; Mori, H. High-Temperature Cooperative Spin Crossover Transitions and Single-Crystal Reflection Spectra of [FeIII(qsal)2](CH3OSO3) and Related Compounds. Crystals 2019, 9, 81.
Note that from the first issue of 2016, MDPI journals use article numbers instead of page numbers. See further details here.
Related Articles
Comments
[Return to top]