(2
E

)-2-[1-(1,3-Benzodioxol-5-yl)-3-(1

H

-imidazol-1-yl)propylidene]-

N

-(2-chlorophenyl)hydrazine carboxamide: Synthesis, X-ray Structure, Hirshfeld Surface Analysis, DFT Calculations, Molecular Docking and Antifungal Profile

1

Department of Pharmaceutical Chemistry, College of Pharmacy, King Saud University, P.O. Box 2457, Riyadh 11451, Saudi Arabia

2

Center for Molecular Biophysics Research, Mar Ivanios College, Nalanchira, Thiruvanthapuram 695015, India

3

Department of Medicinal Chemistry, Faculty of Pharmacy, Mansoura University, Mansoura 35516, Egypt

4

Department of Pharmaceutics, College of Pharmacy, King Saud University, P.O. Box 2457, Riyadh 11451, Saudi Arabia

5

Microbiology and Immunology Department, Faculty of Pharmacy, Al-Azhar University, Cairo 11884, Egypt

6

Medicinal and Pharmaceutical Chemistry Department, Pharmaceutical and Drug Industries Research Division, National Research Centre (ID: 60014618), El Bohooth Street, Dokki, Giza 12622, Egypt

*

Authors to whom correspondence should be addressed.

Received: 3 January 2019 / Revised: 26 January 2019 / Accepted: 29 January 2019 / Published: 4 February 2019
Abstract
Life-threatening fungal infections accounts for a major global health burden especially for individuals suffering from cancer, acquired immune deficiency syndrome (AIDS), or autoimmune diseases. (2
E
)-2-[1-(1,3-Benzodioxol-5-yl)-3-(1
H
-imidazol-1-yl)propylidene]-
N
-(2-chlorophenyl)hydrazinecarboxamide has been synthesized and characterized using various spectroscopic tools to be evaluated as a new antifungal agent. The (
E
)-configuration of the imine moiety of the title molecule has been unequivocally identified with the aid of single crystal X-ray analysis. The molecular structure of compound
4
was crystallized in the monoclinic,
P
2
1
/c,
a
= 8.7780 (6) Å,
b
= 20.5417 (15) Å,
c
= 11.0793 (9) Å,
β
= 100.774 (2)°,
V
= 1962.5 (3) Å
3
, and
Z
= 4. Density functional theory computations have thoroughly explored the electronic characteristics of the title molecule. Moreover, molecular docking studies and Hirshfeld surface analysis were also executed on the title compound
4
. The in vitro antifungal potential of the target compound was examined against four different fungal strains.
View Full-Text
►

▼

Figures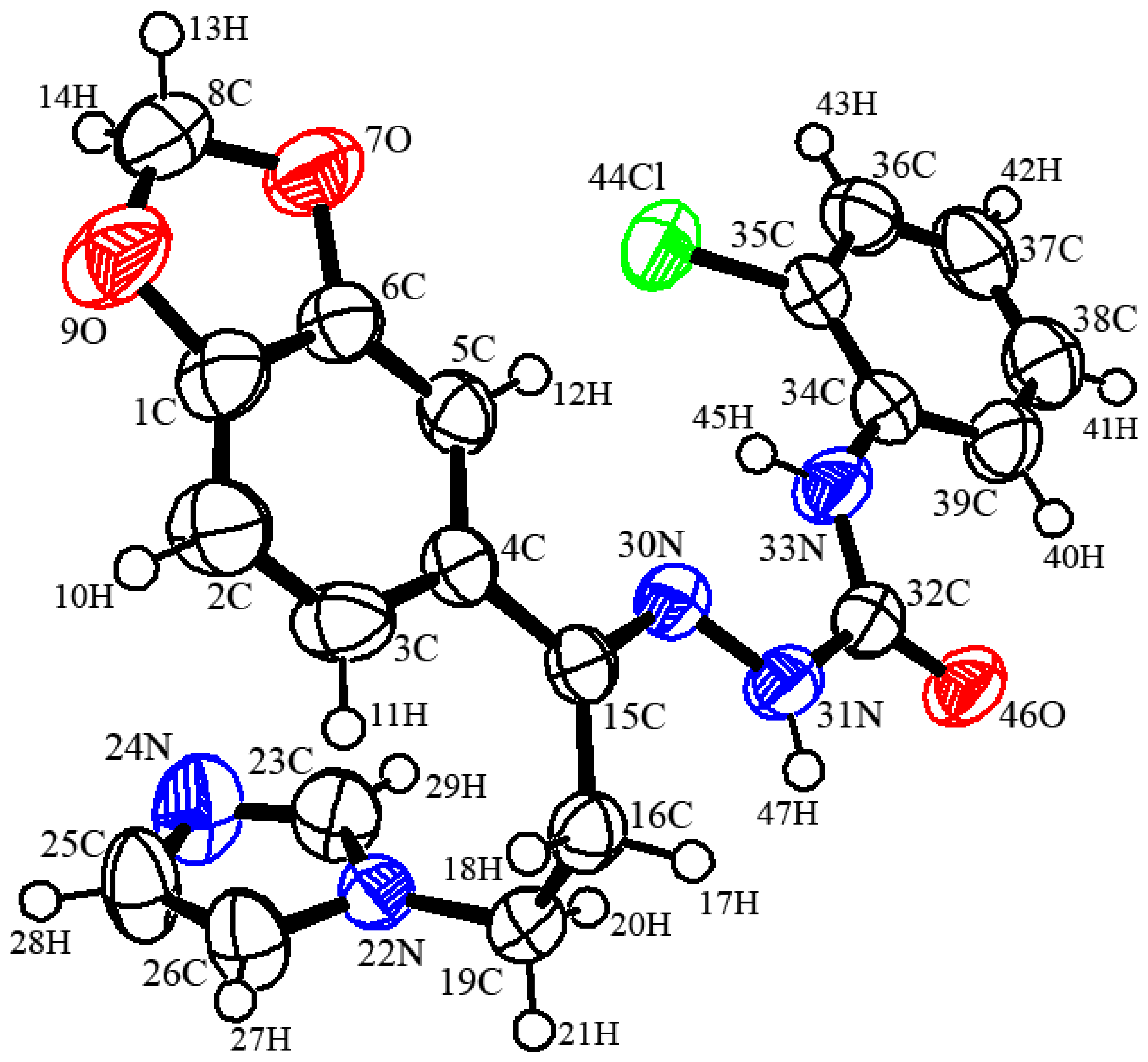 Figure 1
This is an open access article distributed under the
Creative Commons Attribution License
which permits unrestricted use, distribution, and reproduction in any medium, provided the original work is properly cited (CC BY 4.0).

Share & Cite This Article
MDPI and ACS Style
Al-Wabli, R.I.; Al-Ghamdi, A.R.; Aswathy, S.A.V.; Ghabbour, H.A.; Al-Agamy, M.H.; Hubert Joe, I.; Attia, M.I. (2E)-2-[1-(1,3-Benzodioxol-5-yl)-3-(1H-imidazol-1-yl)propylidene]-N-(2-chlorophenyl)hydrazine carboxamide: Synthesis, X-ray Structure, Hirshfeld Surface Analysis, DFT Calculations, Molecular Docking and Antifungal Profile. Crystals 2019, 9, 82.
Note that from the first issue of 2016, MDPI journals use article numbers instead of page numbers. See further details here.
Related Articles
Comments
[Return to top]