High Level Expression of MHC-II in HPV+ Head and Neck Cancers Suggests that Tumor Epithelial Cells Serve an Important Role as Accessory Antigen Presenting Cells
1
Department of Microbiology and Immunology, The University of Western Ontario, London, ON N6A 3K7, Canada
2
Department of Otolaryngology, Head & Neck Surgery, The University of Western Ontario, London, ON N6A 3K7, Canada
3
Department of Oncology, The University of Western Ontario, London, ON N6A 3K7, Canada
4
London Regional Cancer Program, Lawson Health Research Institute, London, ON N6C 2R5, Canada
*
Author to whom correspondence should be addressed.
Received: 23 July 2019 / Revised: 3 August 2019 / Accepted: 5 August 2019 / Published: 7 August 2019
Abstract
High-risk human papillomaviruses (HPVs) are responsible for a subset of head and neck squamous cell carcinomas (HNSCC). Expression of class II major histocompatibility complex (MHC-II) is associated with antigen presenting cells (APCs). During inflammation, epithelial cells can be induced to express MHC-II and function as accessory APCs. Utilizing RNA-seq data from over 500 HNSCC patients from The Cancer Genome Atlas, we determined the impact of HPV-status on the expression of MHC-II genes and related genes involved in their regulation, antigen presentation, and T-cell co-stimulation. Expression of virtually all MHC-II genes was significantly upregulated in HPV+ carcinomas compared to HPV− or normal control tissue. Similarly, genes that encode products involved in antigen presentation were also significantly upregulated in the HPV+ cohort. In addition, the expression of
CIITA
and
RFX5
—regulators of MHC-II—were significantly upregulated in HPV+ tumors. This coordinated upregulation of MHC-II genes was correlated with higher intratumoral levels of interferon-gamma in HPV+ carcinomas. Furthermore, genes that encode various co-stimulatory molecules involved in T-cell activation and survival were also significantly upregulated in HPV+ tumors. Collectively, these results suggest a previously unappreciated role for epithelial cells in antigen presentation that functionally contributes to the highly immunogenic tumor microenvironment observed in HPV+ HNSCC.
View Full-Text
►

▼

Figures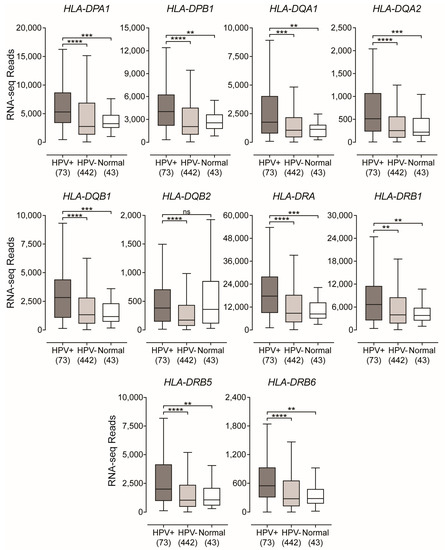 Figure 1
This is an open access article distributed under the
Creative Commons Attribution License
which permits unrestricted use, distribution, and reproduction in any medium, provided the original work is properly cited (CC BY 4.0).

Share & Cite This Article
MDPI and ACS Style
Gameiro, S.F.; Ghasemi, F.; Barrett, J.W.; Nichols, A.C.; Mymryk, J.S. High Level Expression of MHC-II in HPV+ Head and Neck Cancers Suggests that Tumor Epithelial Cells Serve an Important Role as Accessory Antigen Presenting Cells. Cancers 2019, 11, 1129.
Note that from the first issue of 2016, MDPI journals use article numbers instead of page numbers. See further details here.
Related Articles
Comments
[Return to top]