Cul4A Modulates Invasion and Metastasis of Lung Cancer through Regulation of ANXA10
1
Division of Thoracic Oncology, Department of Pulmonary and Critical Care Medicine, Chang Gung Memorial Hospital, Chiayi branch 61363, Taiwan
2
Department of Medicine, College of Medicine, Chang Gung University, Taoyuan 33302, Taiwan
3
Department of Respiratory Care, Chang Gung University of Science and Technology, Chiayi Campus, Chiayi 61363, Taiwan
4
Department of Emergency Medicine, Chang Gung Memorial Hospital, Chiayi branch 61363, Taiwan
5
Department of Anatomic Pathology, Dalin Tzu Chi Hospital, Buddhist Tzu Chi Medical Foundation, Chiayi 62247, Taiwan
6
Department of Hematology and Oncology, Chang Gung Memorial Hospital, Chiayi branch 61363, Taiwan
7
Department of Medical Research and Development, Chang Gung Memorial Hospital, Chiayi branch 61363, Taiwan
8
Thoracic Oncology Laboratory, Department of Surgery, Comprehensive Cancer Center, University of California, San Francisco, CA 94143, USA
9
Life Sciences Division, Lawrence Berkeley National Laboratory, One Cyclotron Road, Berkeley, CA 94720, USA
10
Department of Respiratory Care, College of Medicine, Chang Gung University, Taoyuan 33302, Taiwan
11
Department of Pulmonary and Critical Care Medicine, Chang Gung Memorial Hospital, Taoyuan branch 33378, Taiwan
*
Author to whom correspondence should be addressed.
Received: 25 March 2019 / Revised: 15 April 2019 / Accepted: 24 April 2019 / Published: 2 May 2019
Abstract
Cullin 4A (Cul4A) is overexpressed in a number of cancers and has been established as an oncogene. This study aimed to elucidate the role of Cul4A in lung cancer invasion and metastasis. We observed that Cul4A was overexpressed in non-small cell lung cancer (NSCLC) tissues and the overexpression of Cul4A was associated with poor prognosis after surgical resection and it also decreased the expression of the tumor suppressor protein annexin A10 (ANXA10). The knockdown of Cul4A was associated with the upregulation of ANXA10, and the forced expression of Cul4A was associated with the downregulation of ANXA10 in lung cancer cells. Further studies showed that the knockdown of Cul4A inhibited the invasion and metastasis of lung cancer cells, which was reversed by the further knockdown of ANXA10. In addition, the knockdown of Cul4A inhibited lung tumor metastasis in mouse tail vein injection xenograft models. Notably, Cul4A regulated the degradation of ANXA10 through its interaction with ANXA10 and ubiquitination in lung cancer cells. Our findings suggest that Cul4A is a prognostic marker in NSCLC patients, and Cul4A plays important roles in lung cancer invasion and metastasis through the regulation of the ANXA10 tumor suppressor.
View Full-Text
►

▼

Figures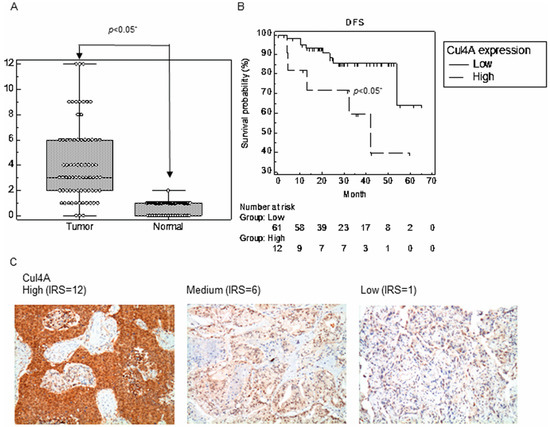 Figure 1
This is an open access article distributed under the
Creative Commons Attribution License
which permits unrestricted use, distribution, and reproduction in any medium, provided the original work is properly cited (CC BY 4.0).

Share & Cite This Article
MDPI and ACS Style
Hung, M.-S.; Chen, Y.-C.; Lin, P.-Y.; Li, Y.-C.; Hsu, C.-C.; Lung, J.-H.; You, L.; Xu, Z.; Mao, J.-H.; Jablons, D.M.; Yang, C.-T. Cul4A Modulates Invasion and Metastasis of Lung Cancer through Regulation of ANXA10. Cancers 2019, 11, 618.
Note that from the first issue of 2016, MDPI journals use article numbers instead of page numbers. See further details here.
Related Articles
Comments
[Return to top]