mTOR Inhibitors Can Enhance the Anti-Tumor Effects of DNA Vaccines through Modulating Dendritic Cell Function in the Tumor Microenvironment
1
Department of Obstetrics and Gynecology, College of Medicine, National Taiwan University, Taipei City 100, Taiwan
2
Graduate Institute of Oncology, College of Medicine, National Taiwan University, Taipei City 100, Taiwan
3
Department of Medicine, National Taiwan University Hospital Jin-Shan Branch, New Taipei City 20844, Taiwan
4
Department of Anesthesiology, College of Medicine, National Taiwan University, Taipei City 100, Taiwan
5
Graduate Institute of Clinical Medicine, College of Medicine, National Taiwan University, Taipei City 100, Taiwan
*
Author to whom correspondence should be addressed.
†
These authors contributed equally to this work.
Received: 16 April 2019 / Revised: 25 April 2019 / Accepted: 1 May 2019 / Published: 2 May 2019
Abstract
The life span of dendritic cells (DCs) can become short following induced activation, which is associated with metabolic transition due to the regulation of mechanistic target of rapamycin (mTOR). The purpose of this study was to investigate the potential of inhibiting mTOR to modulate DC functions for elevating the anti-tumor effects of DNA vaccines. Therefore, the influences of various inhibitors of mTOR (mTORi) on the expressions of DC maturation markers, the abilities of antigen presenting and processing of BMM-derived DCs and the tumor killing effects of E7-specific CD8
+
T lymphocytes activated by BMM-derived DCs were in vitro examined. The anti-tumor effects of connective tissue growth factor (CTGF)/E7 DNA vaccine and/or mTORi were also in vivo analyzed. In our study, suppressive effects of mTORi on the DC maturation markers expressed on BMMCs could be reversed. The mTORi-treated mature BMM-derived DCs tended to be non-apoptotic. These mTORi-treated BMM-derived DCs could have better antigen presenting and processing abilities. The E7-specific cytotoxic CD8+ T lymphocytes could have more potent tumoricidal activity following activation of mTORi-treated BMM-derived DCs. For tumor-bearing mice, those treated with CTGF/E7 DNA vaccine and mTORi indeed can have higher percentages of mature DCs in the TME, better disease control and longer survivals. Consequently, application of mTORi can be a pharmacological approach for temporally increasing life span, antigen presenting and antigen processing of DCs to strengthen the therapeutic outcome of cancer immunotherapy.
View Full-Text
►

▼

Figures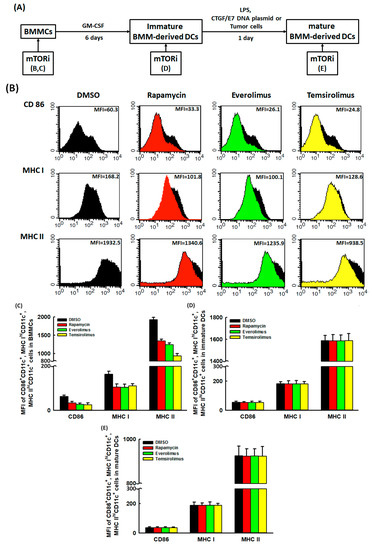 Figure 1
This is an open access article distributed under the
Creative Commons Attribution License
which permits unrestricted use, distribution, and reproduction in any medium, provided the original work is properly cited (CC BY 4.0).

Share & Cite This Article
MDPI and ACS Style
Chen, Y.-L.; Lin, H.-W.; Sun, N.-Y.; Yie, J.-C.; Hung, H.-C.; Chen, C.-A.; Sun, W.-Z.; Cheng, W.-F. mTOR Inhibitors Can Enhance the Anti-Tumor Effects of DNA Vaccines through Modulating Dendritic Cell Function in the Tumor Microenvironment. Cancers 2019, 11, 617.
Note that from the first issue of 2016, MDPI journals use article numbers instead of page numbers. See further details here.
Related Articles
Comments
[Return to top]