Intraduodenal Administration of L-Valine Has No Effect on Antropyloroduodenal Pressures, Plasma Cholecystokinin Concentrations or Energy Intake in Healthy, Lean Men
Adelaide Medical School and National Health and Medical Research Council of Australia Centre of Research Excellence in Translating Nutritional Science to Good Health, Level 5 Adelaide Health and Medical Sciences Building, Corner North Terrace and George Street, Adelaide 5005, Australia
†
Current address: Institute for Prevention and Cancer Epidemiology, Faculty of Medicine and Medical Center, University of Freiburg, 79098 Freiburg, Germany.
*
Author to whom correspondence should be addressed.
Received: 23 November 2018 / Revised: 2 January 2019 / Accepted: 3 January 2019 / Published: 5 January 2019
Abstract
Whey protein is rich in the branched-chain amino acids, L-leucine, L-isoleucine and L-valine. Thus, branched-chain amino acids may, at least in part, mediate the effects of whey to reduce energy intake and/or blood glucose. Notably, 10 g of either L-leucine or L-isoleucine, administered intragastrically before a mixed-nutrient drink, lowered postprandial blood glucose, and intraduodenal infusion of L-leucine (at a rate of 0.45 kcal/min, total: 9.9 g) lowered fasting blood glucose and reduced energy intake from a subsequent meal. Whether L-valine affects energy intake, and the gastrointestinal functions involved in the regulation of energy intake, as well as blood glucose, in humans, is currently unknown. We investigated the effects of intraduodenally administered L-valine on antropyloroduodenal pressures, plasma cholecystokinin, blood glucose and energy intake. Twelve healthy lean men (age: 29 ± 2 years, BMI: 22.5 ± 0.7 kg/m
2
) were studied on 3 separate occasions in randomised, double-blind order. Antropyloroduodenal pressures, plasma cholecystokinin, blood glucose, appetite perceptions and gastrointestinal symptoms were measured during 90-min intraduodenal infusions of L-valine at 0.15 kcal/min (total: 3.3 g) or 0.45 kcal/min (total: 9.9 g), or 0.9% saline (control). Energy intake from a buffet-meal immediately after the infusions was quantified. L-valine did not affect antral, pyloric (mean number; control: 14 ± 5; L-Val-0.15: 21 ± 9; L-Val-0.45: 11 ± 4), or duodenal pressures, plasma cholecystokinin (mean concentration, pmol/L; control: 3.1 ± 0.3; L-Val-0.15: 3.2 ± 0.3; L-Val-0.45: 3.0 ± 0.3), blood glucose, appetite perceptions, symptoms or energy intake (kcal; control: 1040 ± 73; L-Val-0.15: 1040 ± 81; L-Val-0.45: 1056 ± 100), at either load (
p
> 0.05 for all). In conclusion, intraduodenal infusion of L-valine, at loads that are moderately (3.3 g) or substantially (9.9 g) above World Health Organization valine requirement recommendations, does not appear to have energy intake- or blood glucose-lowering effects.
View Full-Text
►

▼

Figures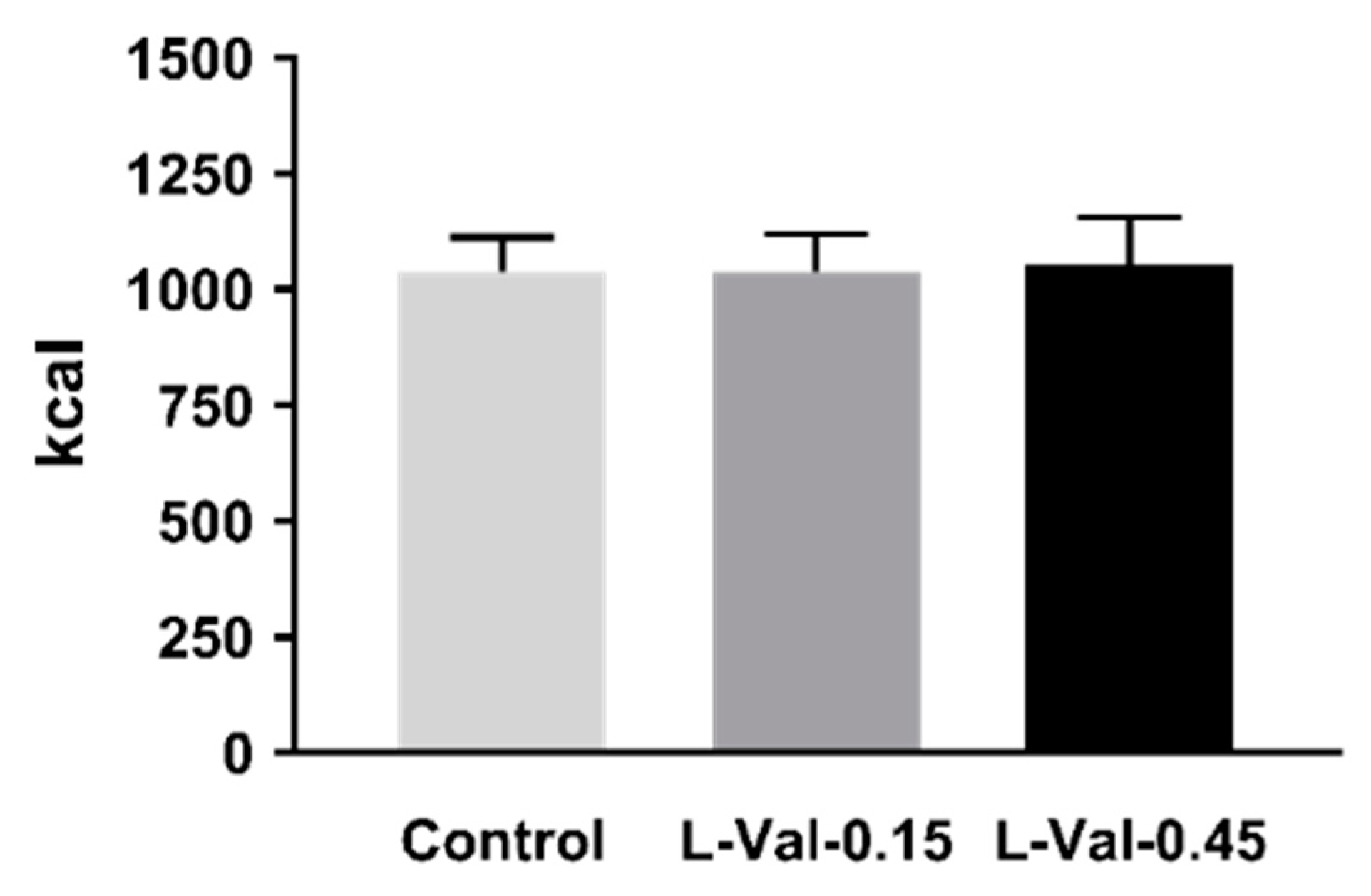 Figure 1
This is an open access article distributed under the
Creative Commons Attribution License
which permits unrestricted use, distribution, and reproduction in any medium, provided the original work is properly cited (CC BY 4.0).

Share & Cite This Article
MDPI and ACS Style
Elovaris, R.A.; Fitzgerald, P.C.E.; Bitarafan, V.; Ullrich, S.S.; Horowitz, M.; Feinle-Bisset, C. Intraduodenal Administration of L-Valine Has No Effect on Antropyloroduodenal Pressures, Plasma Cholecystokinin Concentrations or Energy Intake in Healthy, Lean Men. Nutrients 2019, 11, 99.
Note that from the first issue of 2016, MDPI journals use article numbers instead of page numbers. See further details here.
Related Articles
Comments
[Return to top]