Generation of a GFP Reporter Akabane Virus with Enhanced Fluorescence Intensity by Modification of Artificial Ambisense S Genome
1
Department of Veterinary Microbiology, Graduate School of Agricultural and Life Sciences, The University of Tokyo, 1-1-1 Yayoi, Bunkyo-ku, Tokyo 113-8657, Japan
2
Department of Veterinary Pathology, Graduate School of Agriculture and Life Sciences, The University of Tokyo, 1-1-1 Yayoi, Bunkyo-ku, Tokyo 113-8657, Japan
3
Division of Biomedical Food Research, National Institute of Health Sciences, 3-25-26 Tonomachi, Kawasaki-ku, Kawasaki 210-9501, Japan
*
Author to whom correspondence should be addressed.
Received: 10 June 2019 / Revised: 4 July 2019 / Accepted: 9 July 2019 / Published: 10 July 2019
Abstract
We previously generated a recombinant reporter Akabane virus expressing enhanced green fluorescence protein (eGFP-AKAV), with an artificial S genome encoding eGFP in the ambisense RNA. Although the eGFP-AKAV was able to detect infected cells in in vivo histopathological study, its fluorescent signal was too weak to apply to in vivo imaging study. Here, we successfully generated a modified reporter, eGFP/38-AKAV, with 38-nucleotide deletion of the internal region of the 5′ untranslated region of S RNA. The eGFP/38-AKAV expressed higher intensity of eGFP fluorescence both in vitro and in vivo than the original eGFP-AKAV did. In addition, eGFP/38-AKAV was pathogenic in mice at a comparable level to that in wild-type AKAV. In the mice infected with eGFP/38-AKAV, the fluorescent signals, i.e., the virus-infected cells, were detected in the central nervous system using the whole-organ imaging. Our findings indicate that eGFP/38-AKAV could be used as a powerful tool to help elucidate the dynamics of AKAV in vivo.
View Full-Text
►

▼

Figures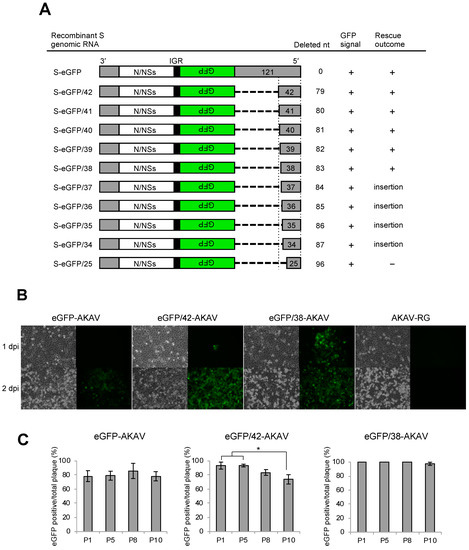 Figure 1
This is an open access article distributed under the
Creative Commons Attribution License
which permits unrestricted use, distribution, and reproduction in any medium, provided the original work is properly cited (CC BY 4.0).

Share & Cite This Article
MDPI and ACS Style
Takenaka-Uema, A.; Murakami, S.; Ushio, N.; Kobayashi-Kitamura, T.; Uema, M.; Uchida, K.; Horimoto, T. Generation of a GFP Reporter Akabane Virus with Enhanced Fluorescence Intensity by Modification of Artificial Ambisense S Genome. Viruses 2019, 11, 634.
Note that from the first issue of 2016, MDPI journals use article numbers instead of page numbers. See further details here.
Related Articles
Comments
[Return to top]