Emergence of a Novel Reassortant Strain of Bluetongue Serotype 6 in Israel, 2017: Clinical Manifestations of the Disease and Molecular Characterization
1
Kimron Veterinary Institute, Division of Virology, Beit Dagan 50250, Israel
2
School of Molecular Cell Biology Biotechnology, Tel Aviv University, Tel Aviv 69978, Israel
3
Hachaklait veterinary services, Caesarea 3088900, Israel
4
Indi-Vet Ltd., Ashdod 7764933, Israel
5
Dr. Amos Bareli LTD, Kiryat Tiv'on 3605141, Israel
6
Lamikne veterinary services, Kiryat Tiv'on 3603247, Israel
*
Authors to whom correspondence should be addressed.
Received: 14 May 2019 / Revised: 3 July 2019 / Accepted: 9 July 2019 / Published: 10 July 2019
Abstract
Reassortment contributes to the evolution of RNA viruses with segmented genomes, including Bluetongue virus (BTV). Recently, co-circulation of natural and vaccine BTV variants in Europe, and their ensuing reassortment, were proposed to promote appearance of novel European BTV strains, with potential implications for pathogenicity, spread and vaccination policies. Similarly, the geographical features of the Mediterranean basin, which spans over portions of three continents, may facilitate the appearance of clinically relevant reassortants via co-circulation of BTV strains of African, Asian and European origins. In August–October 2017, BTV serotype 6 (BTV-6) was identified in young animals exhibiting classical clinical signs of Bluetongue (BT) at Israeli sheep and cattle farms. Sequencing and pairwise analysis of this Israeli BTV-6 isolate revealed the closest sequence homology of its serotype-defining Segment 2 was with that of South African reference BTV-6 strain 5011 (93.88% identity). In contrast, the other viral segments showed highest homology (97.0%–99.47% identity) with BTV-3, -4 and -9 of Mediterranean and African origins. Specifically, four viral segments were nearly identical (99.13%–99.47%), with Tunisian and Italian BTV-3 strains (TUN2016 and SAD2018, correspondingly). Together, our data suggest that Mediterranean co-circulation and reassortment of BTV-3 and BTV-6 drove the emergence of a novel and virulent BTV-6 strain
View Full-Text
►

▼

Figures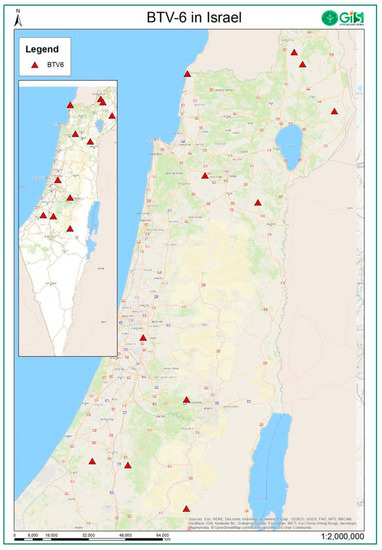 Figure 1
This is an open access article distributed under the
Creative Commons Attribution License
which permits unrestricted use, distribution, and reproduction in any medium, provided the original work is properly cited (CC BY 4.0).

Share & Cite This Article
MDPI and ACS Style
Golender, N.; Eldar, A.; Ehrlich, M.; Khinich, Y.; Kenigswald, G.; Varsano, J.S.; Ertracht, S.; Abramovitz, I.; Assis, I.; Shlamovitz, I.; Tiomkin, E.; Yonay, E.; Sharir, B.; Bumbarov, V.Y. Emergence of a Novel Reassortant Strain of Bluetongue Serotype 6 in Israel, 2017: Clinical Manifestations of the Disease and Molecular Characterization. Viruses 2019, 11, 633.
Note that from the first issue of 2016, MDPI journals use article numbers instead of page numbers. See further details here.
Related Articles
Comments
[Return to top]