Immune Responses in the Eye-Associated Lymphoid Tissues of Chickens after Ocular Inoculation with Vaccine and Virulent Strains of the Respiratory Infectious Laryngotracheitis Virus (ILTV)
1
Poultry Diagnostic and Research Center, Department of Population Health, College of Veterinary Medicine, University of Georgia, 953 College Station Rd., Athens, GA 30602, USA
2
Food Animal Health and Management Program, Department of Population Health, College of Veterinary Medicine, University of Georgia, 501 D. W. Brooks Dr., Athens, GA 30602, USA
3
Veterinary Biosciences and Diagnostic Imaging, College of Veterinary Medicine, University of Georgia, 501 D. W. Brooks Dr., Athens, GA 30602, USA
4
Department of Pathobiology, Ontario Veterinary College, University of Guelph, Guelph, Ontario, ON N1G 2W1, Canada
5
Department of Veterinary Pathology, College of Veterinary Medicine, University of Georgia, 501 D. W. Brooks Dr., Athens, GA 30602, USA
*
Author to whom correspondence should be addressed.
†
These authors contributed equally to this work.
‡
Current address: Merck Animal Health, 21401 W Center Rd, Elkhorn, NE 68022, USA.
Received: 24 March 2019 / Revised: 5 July 2019 / Accepted: 8 July 2019 / Published: 10 July 2019
Abstract
Infectious laryngotracheitis (ILT) is an acute respiratory disease of poultry caused by infectious laryngotracheitis virus (ILTV). Control of the disease with live attenuated vaccines administered via eye drop build upon immune responses generated by the eye-associated lymphoid tissues. The aim of this study was to assess cytokine and lymphocyte changes in the conjunctiva-associated lymphoid tissues (CALT) and Harderian gland (HG) stimulated by the ocular inoculation of the ILTV chicken embryo origin (CEO) vaccine strain and virulent strain 63140. This study offers strong evidence to support the roles that the CALT and HG play in the development of protective ILTV immune responses. It supports the premise that ILTV-mediated immunomodulation favors the B cell response over those of T cells. Further, it provides evidence that expansions of CD8α
+
cells, with the concomitant expression of the
Granzyme A
gene, are key to reducing viral genomes in the CALT and halting ILTV cytolytic replication in the conjunctiva. Ultimately, this study revealed that the early upregulation of interleukin
(IL)-12p40
and Interferon (
IFN)-γ
cytokine genes, which shape the antigen-specific cell-mediated immune responses, retarded the decline of virus replication, and enhanced the development of lesions in the conjunctiva epithelium.
View Full-Text
►

▼

Figures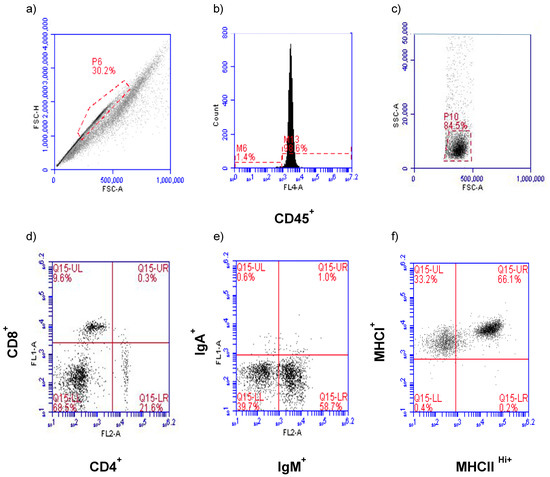 Figure 1
This is an open access article distributed under the
Creative Commons Attribution License
which permits unrestricted use, distribution, and reproduction in any medium, provided the original work is properly cited (CC BY 4.0).

Share & Cite This Article
MDPI and ACS Style
Beltrán, G.; Hurley, D.J.; Gogal, R.M., Jr.; Sharif, S.; Read, L.R.; Williams, S.M.; Jerry, C.F.; Maekawa, D.A.; García, M. Immune Responses in the Eye-Associated Lymphoid Tissues of Chickens after Ocular Inoculation with Vaccine and Virulent Strains of the Respiratory Infectious Laryngotracheitis Virus (ILTV). Viruses 2019, 11, 635.
Note that from the first issue of 2016, MDPI journals use article numbers instead of page numbers. See further details here.
Related Articles
Comments
[Return to top]