Identification, Pathogenicity of Novel Fowl Adenovirus Serotype 4 SDJN0105 in Shandong, China and Immunoprotective Evaluation of the Newly Developed Inactivated Oil-emulsion FAdV-4 Vaccine
1
Poultry Institute, Shandong Academy of Agricultural Sciences, Shandong Provincial Key Laboratory of Poultry Diseases Diagnosis and Immunology, Poultry Breeding Engineering Technology Center of Shandong Province, Jinan 250023, China
2
Shandong Key Laboratory of Animal Disease Control and Breeding, Institute of Animal Science and Veterinary Medicine, Shandong Academy of Agricultural Sciences, Jinan 250100, China
*
Authors to whom correspondence should be addressed.
†
These authors have contributed equally to this work.
Received: 10 June 2019 / Revised: 4 July 2019 / Accepted: 5 July 2019 / Published: 8 July 2019
Abstract
Since mid-2015, numerous outbreaks of hydropericardium-hepatitis syndrome (HHS), which is caused by a novel fowl adenovirus serotype 4 (FAdV-4), have been reported in chickens in parts of China, thereby causing huge economic losses to the poultry industry. Thus, an effective vaccine to control the further spread of infections with this hyper-virulent FAdV-4 is imperative. In this study, we isolated a novel FAdV-4 strain SDJN0105 from a broiler farm with HHS disease in Shandong Province. Pathogenicity was evaluated by the observation of clinical symptoms, necropsy changes, and pathological tissue sections after oral and intramuscular (IM) infection of Specific pathogen free (SPF) chickens. The chickens infected by IM injection all died within three days, and chickens infected via the oculonasal route died within five days post-infection (dpi). Histopathological examination revealed that the pathology was confined to heart, liver, spleen, lung, kidney, and particularly the liver. Irrespective of the inoculation route, the highest viral DNA copy numbers were detected in the livers of infected chickens. The mRNA expression levels of IL-1β, IL-6, IL-8, IFNs, TNF-α, Mx, and OASL were significantly upregulated during the viral infection. In addition, an inactivated oil-emulsion FAdV-4 vaccine was developed. The vaccine could provide full protection for SPF chickens against a lethal dose of the FAdV-4 strain SDJN0105 and a high level of antibodies. These results improve our understanding of the innate immune responses in chickens infected with FAdV-4 and the pathogenesis of FAdV-4 caused by host factors, and the developed FAdV-4 vaccine is promising as a drug candidate for the prevention and reduction of the spread of HHS in poultry in China.
View Full-Text
►

▼

Figures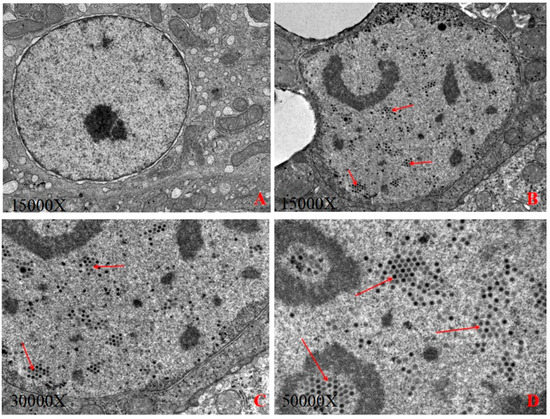 Figure 1
This is an open access article distributed under the
Creative Commons Attribution License
which permits unrestricted use, distribution, and reproduction in any medium, provided the original work is properly cited (CC BY 4.0).

Share & Cite This Article
MDPI and ACS Style
Meng, K.; Yuan, X.; Yu, J.; Zhang, Y.; Ai, W.; Wang, Y. Identification, Pathogenicity of Novel Fowl Adenovirus Serotype 4 SDJN0105 in Shandong, China and Immunoprotective Evaluation of the Newly Developed Inactivated Oil-emulsion FAdV-4 Vaccine. Viruses 2019, 11, 627.
Note that from the first issue of 2016, MDPI journals use article numbers instead of page numbers. See further details here.
Related Articles
Comments
[Return to top]